Weddings Category
November 21st, 2014 categories: Custom Fabrication, Decor, Events, Products, Venues, Weddings
We love the clean and classic look of a Sperry Tent but we also adore a good shade structure.  Working together with Alicia K Designs at the beautiful Annadel Estate Winery in Sonoma, we fabricated a 40×60 wood structure to cover 200 guests for dinner.  The result was really lovely and captured so well by the talented Carlie Statsky.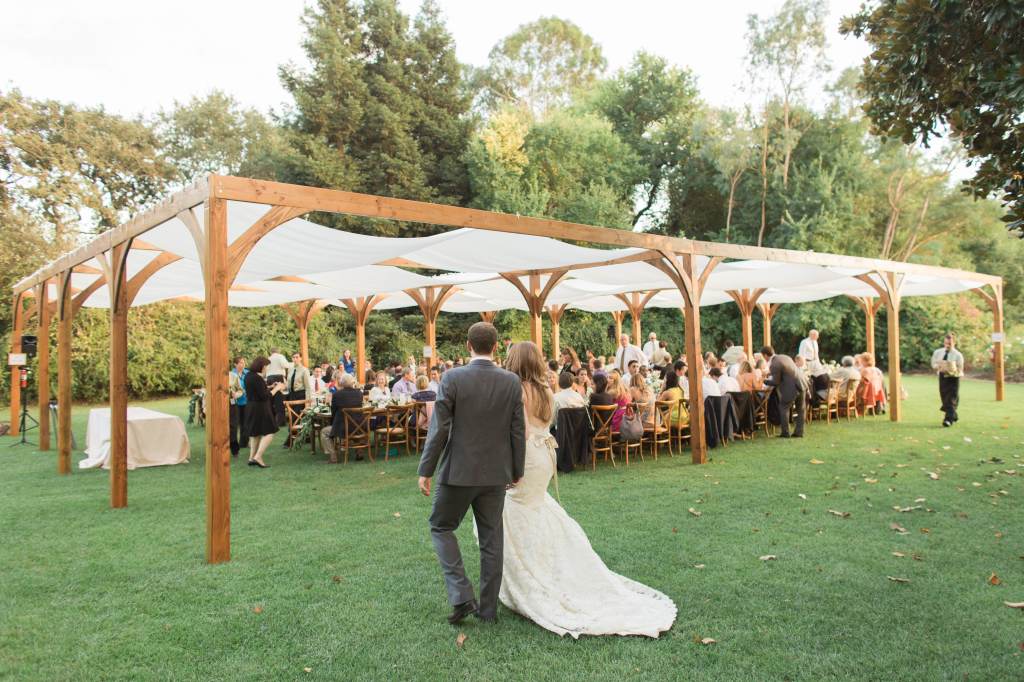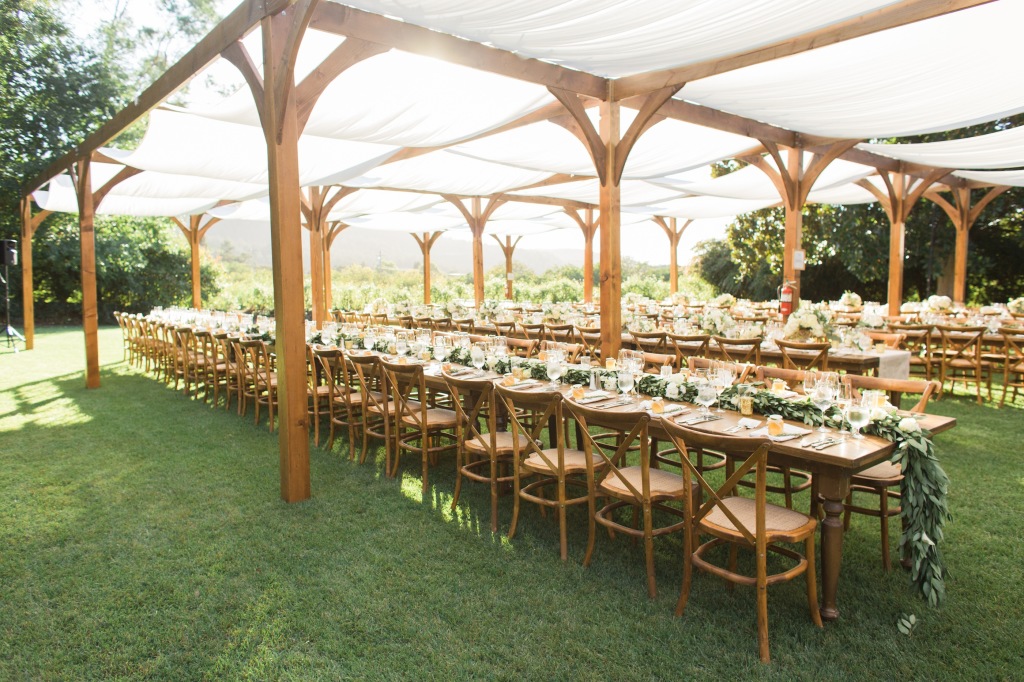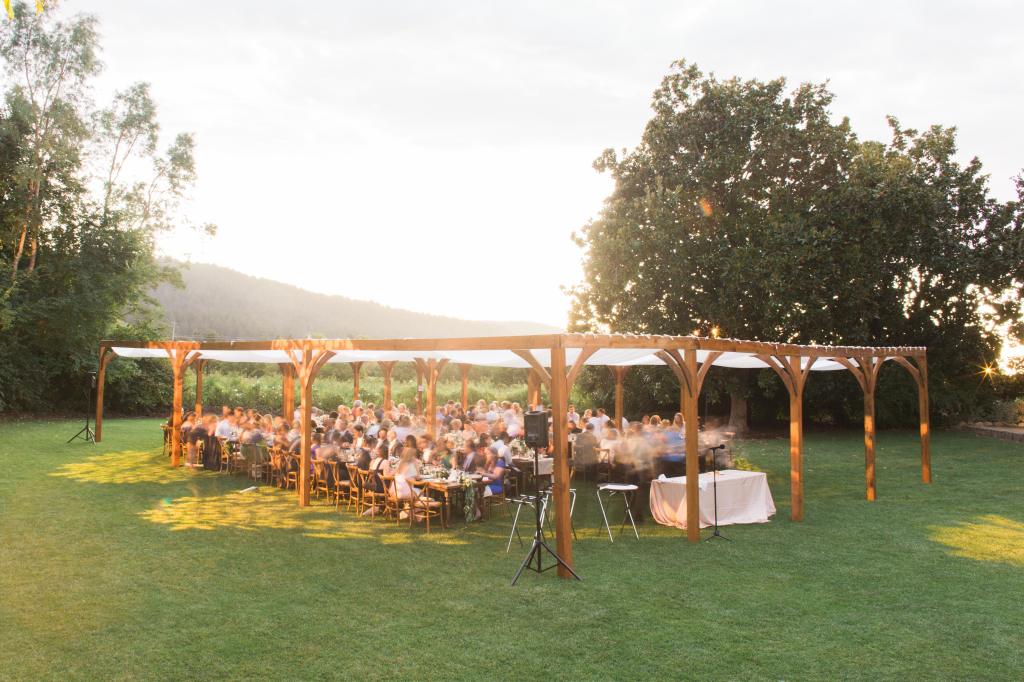 Spoken by Jen Owsley | Discussion: Comments Off on The Shade Structure – A Tenting Alternative
February 28th, 2013 categories: Decor, Events, Lighting, Weddings
Nestled in the Sacramento Valley lies one of the last Mexican land grant properties in California AND the most perfect spot for a ranch wedding – Llano Seco Rancho.  The groom's family owns this amazing property where they raise pigs and cows organically – Llano Seco Meats.  As you may have guessed, this wedding reception did not disappoint in the protein department.
The day began with an intimate lake-side ceremony followed by a cocktail reception featuring a Charcuterie station under a 16'round canopy. Guests were encouraged to watch the The Whole Beast cook up Llano Seco meat on an open fire built out of cinder blocks with a custom meat clamp. They then feasted at our farm tables with bistro lights strung overhead.  Bacio Catering executed the service and side dishes which complemented the hearty family-style entrees.  Dancing was held under a 46′ x 64′ canopy illuminated with Arrondi Chandeliers.  Designer Sharla Flock beautified the day and wedding planner Laura McDonald of LMM events made the entire event seem effortless.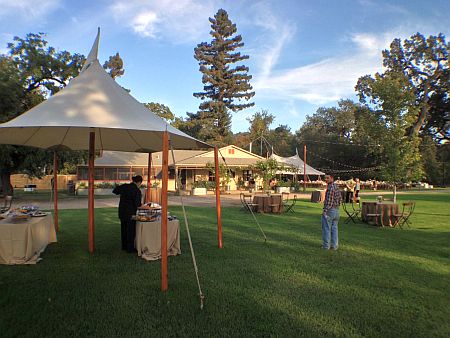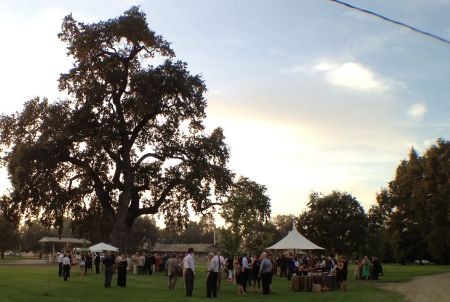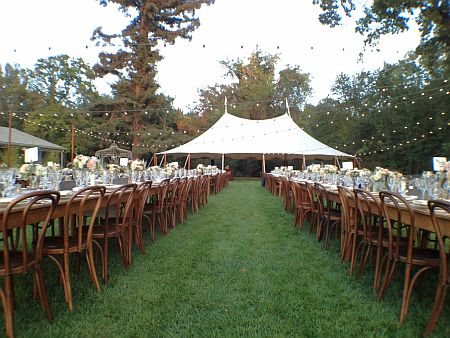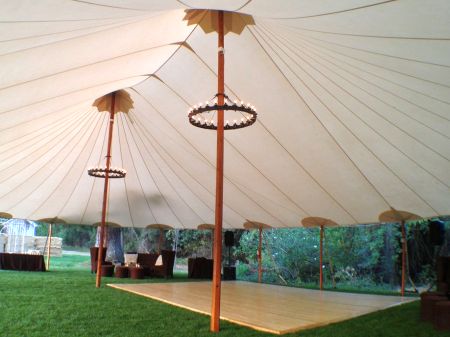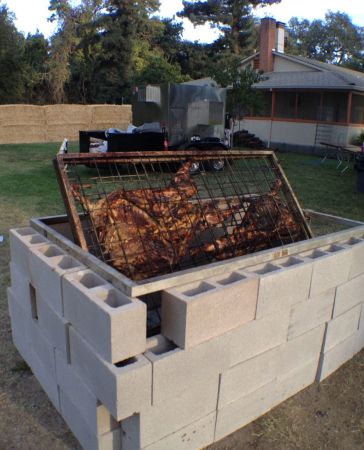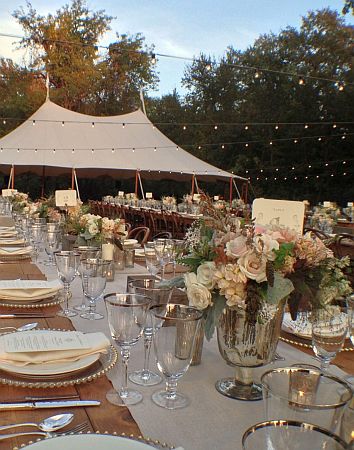 Spoken by Jen Owsley | Discussion: Comments Off on Northern California Ranch Wedding
February 4th, 2011 categories: Company Info, Weddings
And we love a Martha Stewart Weddings endorsement!
February 3, 2011
Posted by Shira Savada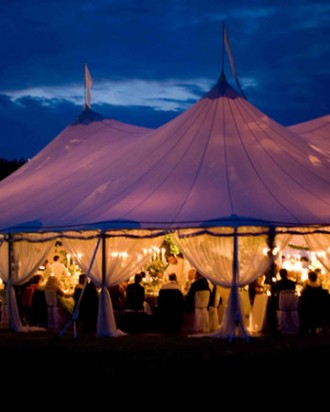 We love Sperry Tents, and we're excited that they're now available in 15 states! Their sailcloth tents come in all shapes and sizes — you'll surely find a perfect fit for your outdoor wedding. Plus, they can customize the shade of their flag tops to match your event's color palette.
Spoken by Jen Owsley | Discussion: 1 Comment »
March 19th, 2010 categories: Photos, Products, Weddings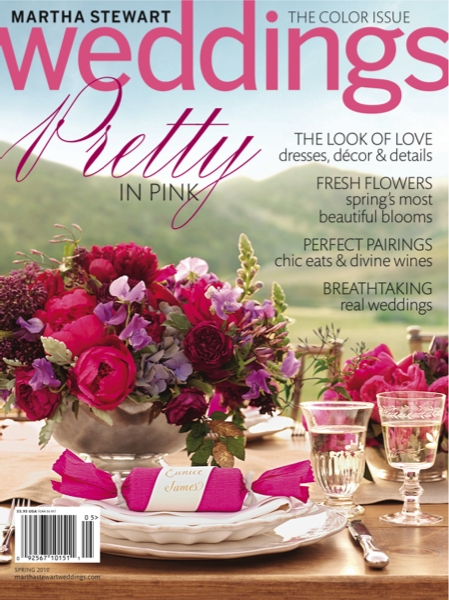 It's sort of like the Sports Illustrated Swimsuit Issue of the wedding industry!
Tod Owsley of Zephyr Tents designed and built these beautiful tables.  Here is a photo of our warehouse during production: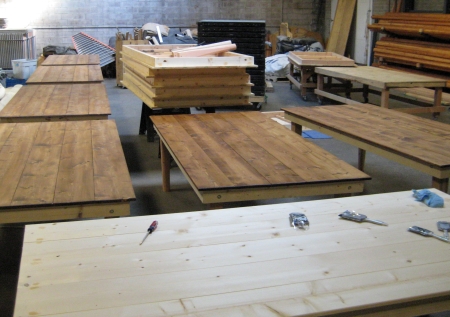 Within the magazine, there is a huge spread on Eunice Moyle of Hello!Lucky and Daniel James' amazing wedding.  Their whimsical and creative celebration was unlike any other – no detail was left undone.  Below are some photos of our wares.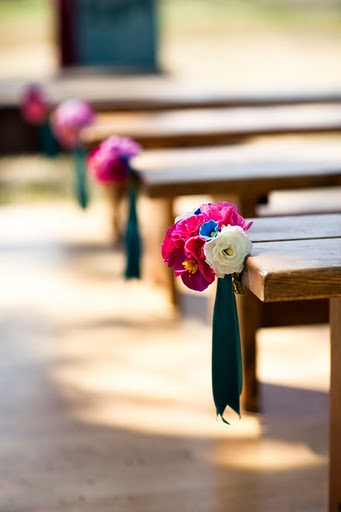 We love the aisle decor on our benches!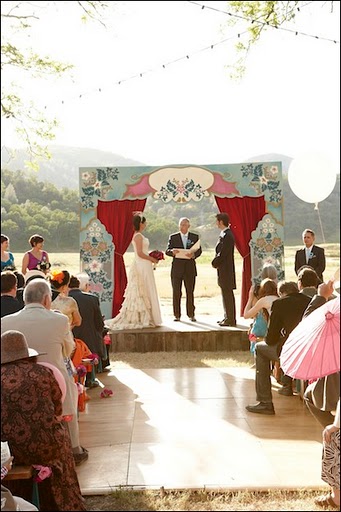 Tod and crew built the reclaimed wood stage and the dance floor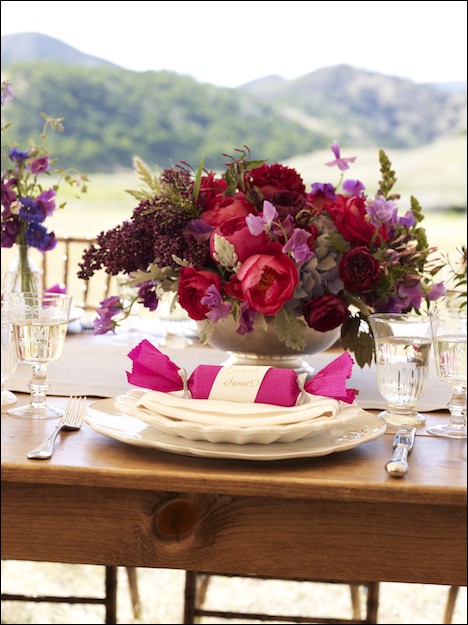 gorgeous floral centerpiece by Sharla Flock Designs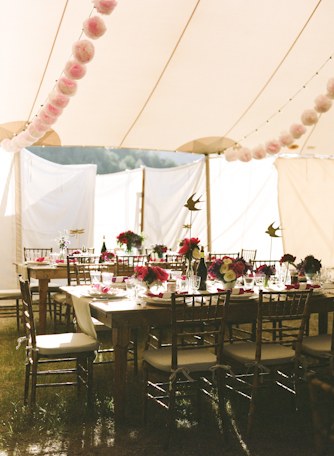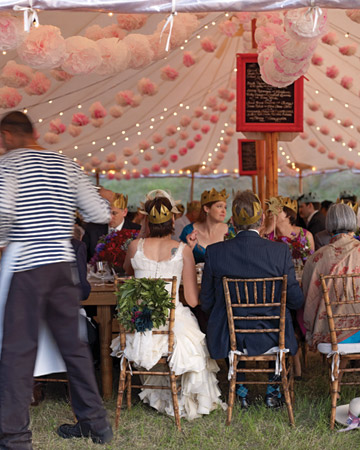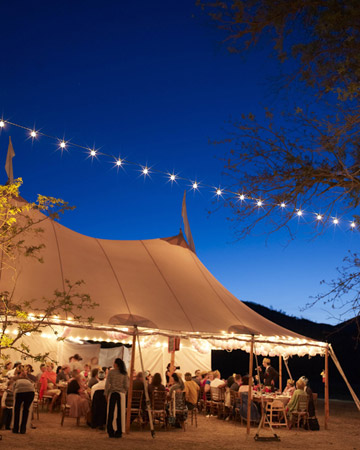 Eunice and Sabrina Moyle dyed the coffee filters for these lovely pink pom-pom garlands.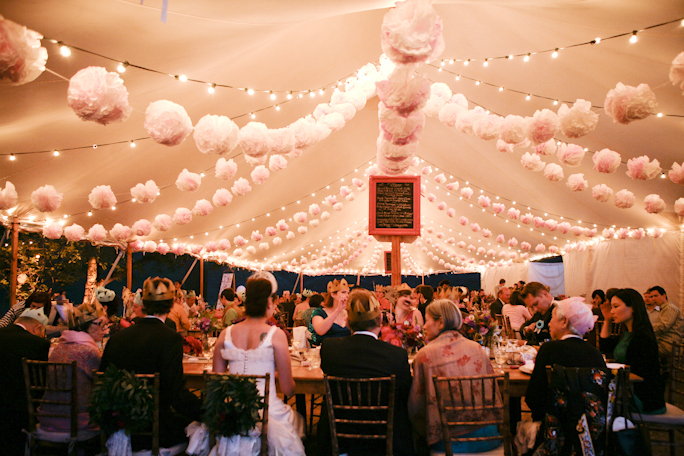 Photos by Gia Canali and Sara Remington
Spoken by Jen Owsley | Discussion: 2 Comments »
March 4th, 2010 categories: Products, Weddings
A bridal tent is a great solution for those reception sites that don't have a private area designated for the bride and bridesmaids to ready themselves.   Applying make-up in natural light is always a good idea and fresh air will calm those pre-ceremony butterflies.  Furnish the tent with lounge-type furniture, have something cold to drink (with bubbles perhaps?), and maybe even a framed photo of the husband-to-be.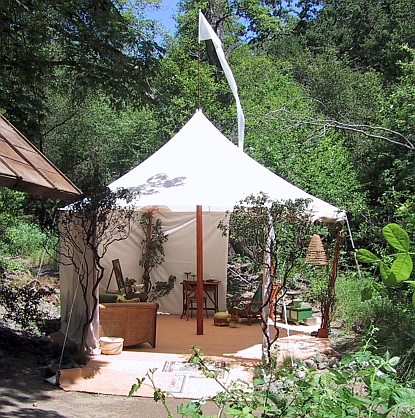 A 16′ round bridal tent complete with sub-floor and sisal carpet.  We love the Manzanita branches on the tent poles.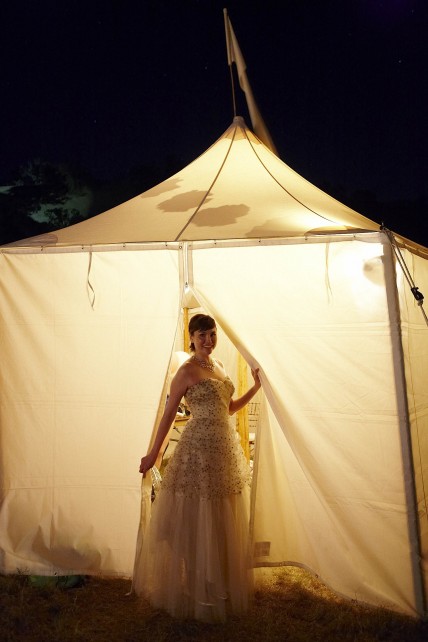 A bride makes her debut from our bridal tent.  Photo source – Martha Stewart Weddings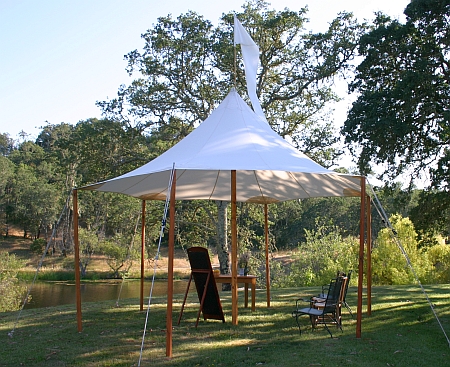 This bride chose to have her hair and make-up done al fresco.
Spoken by Jen Owsley | Discussion: Comments Off on The Outdoor Bridal Suite
February 9th, 2010 categories: Lighting, Products, Weddings
We were delighted to work with Green Girl Events on an intimate wedding in Tomales, just north of Point Reyes Station.  The site was bare when we arrived – just a hill on a cow pasture with a view of the bay.  Lucky cows.
Several hours later, the farmland was transformed with a carpeted sub-floor, tents and lighting.  The guests arrived dressed in formal attire and enjoyed a performance by professional opera singers, fine food by Inverness caterer, Indian Peach, and dancing into the wee hours.
Photos graciously shared by Paige Green Photography.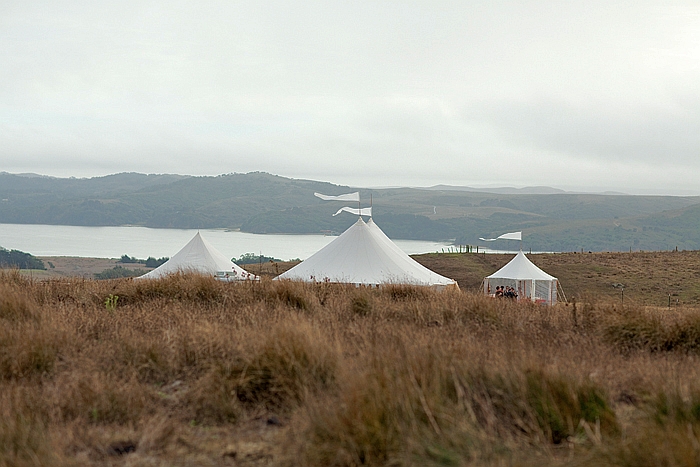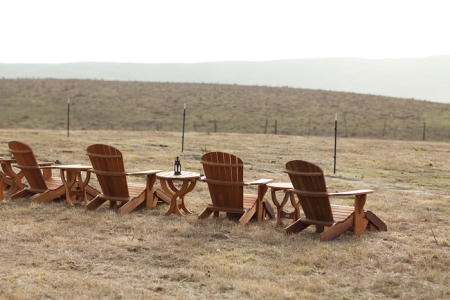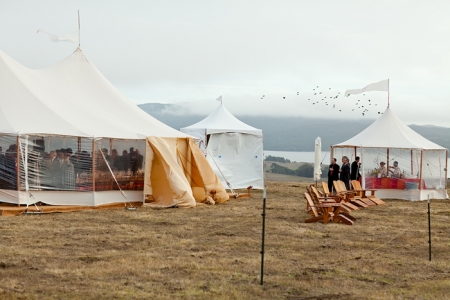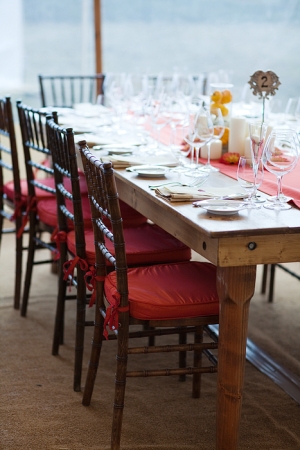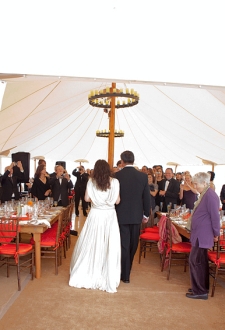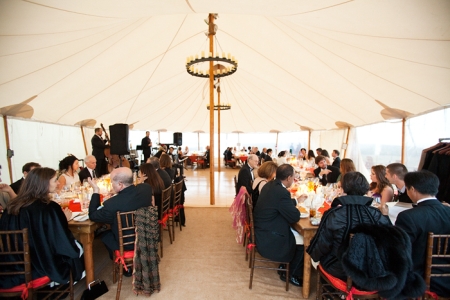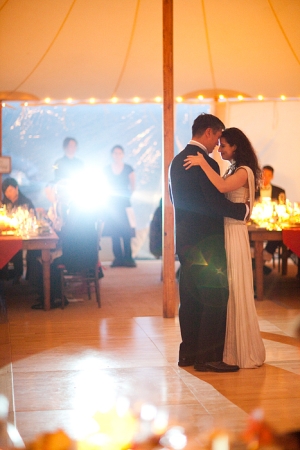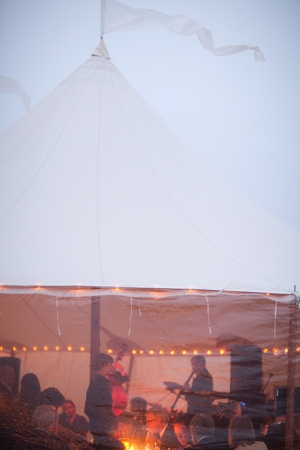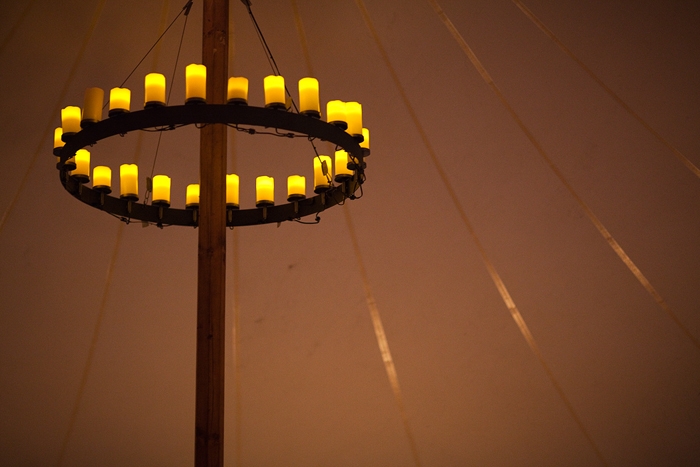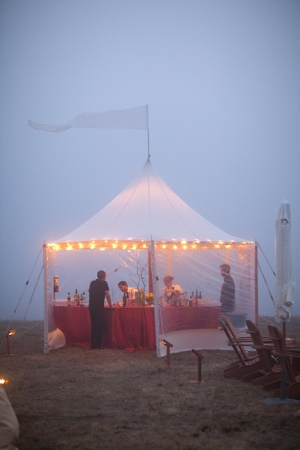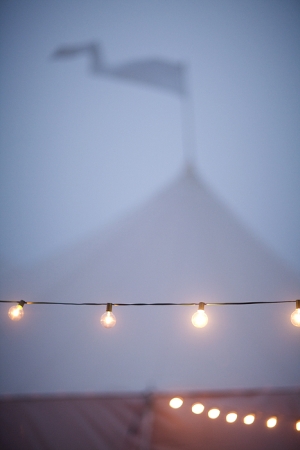 Spoken by Jen Owsley | Discussion: Comments Off on A Black Tie Wedding on a West Marin Dairy Farm
February 5th, 2010 categories: Decor, Events, Photos, Weddings
Rebecca Feeney, of Custom Event Group, recently shared some lovely images of a wedding on which we collaborated.    The ceremony and cocktail reception were held under a 46×80′ tent.  Too often in California, wedding guests sit in the hot sun hoping the wedding vows will commence before the heat becomes unbearable.  A tent can be incorporated into a natural setting without obstructing views and provide a retreat for your guests from that afternoon summer sun.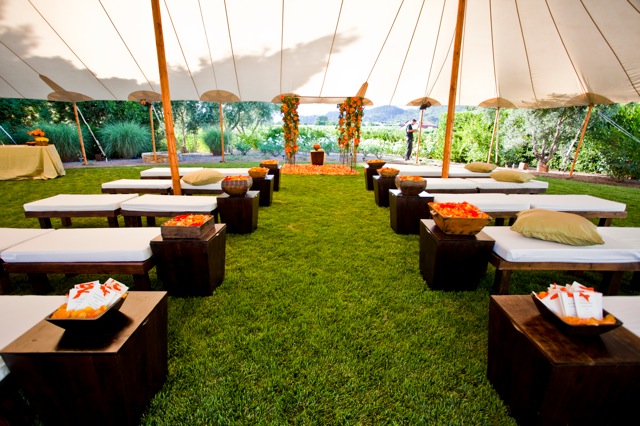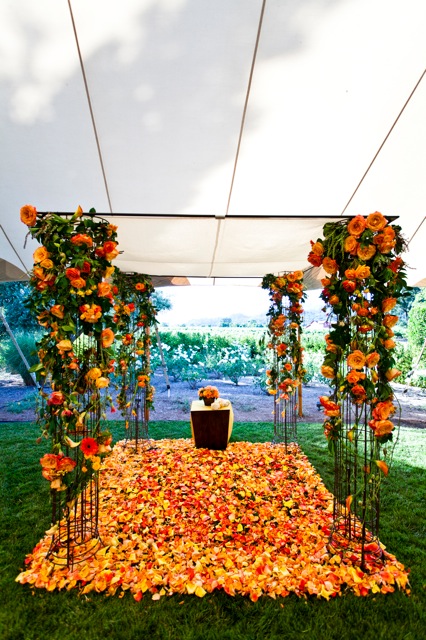 Designer Kathy Hoffman once again wows us with her style – love the use of vibrant yellows and oranges.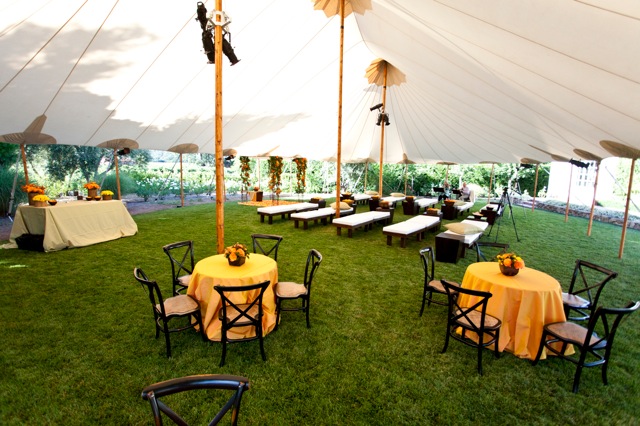 Above photos by Sara Remington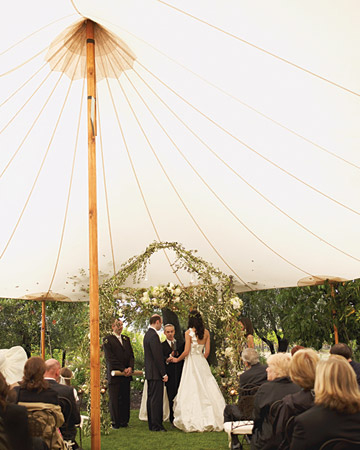 This photo was featured in the 2010 Winter issue of Martha Stewart Weddings, Anniversary Edition.  The chuppah was adorned with olive branches and magnolia leaves.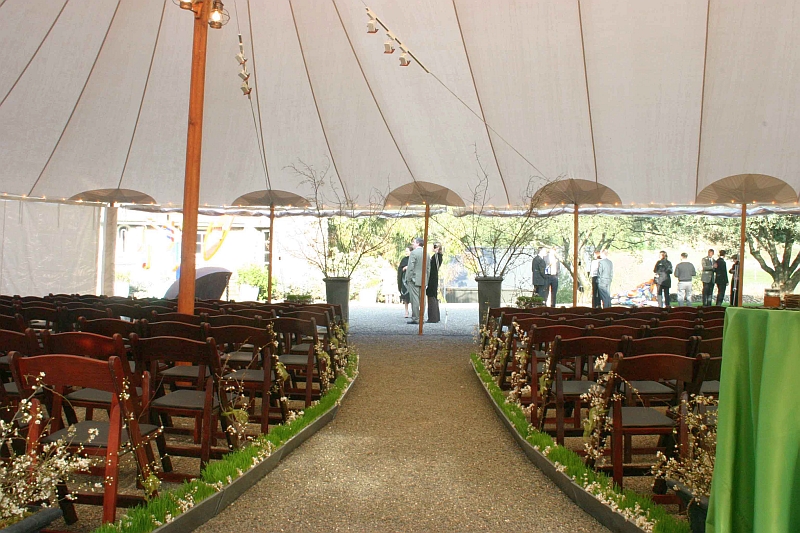 For this wedding at di Rosa Preserva in Napa, the tent was used as shelter from the rain.  Designer, Kathy Hoffman created a beautiful contemporary floral design.
Spoken by Jen Owsley | Discussion: 1 Comment »
January 28th, 2010 categories: Events, Photos, Products, Weddings
We have a passion for weddings and it's a good thing since weddings make up the majority of our business.  From great locations, wood furniture, custom built walkways and new round chandeliers, looking back on last year's wedding season, here are some of the highlights.
1.  GREAT Locations!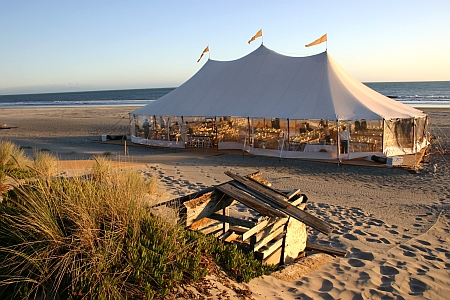 Stinson Beach – an idyllic setting.  We built a wood sub floor on the beach and constructed a walkway up through the dunes to the house.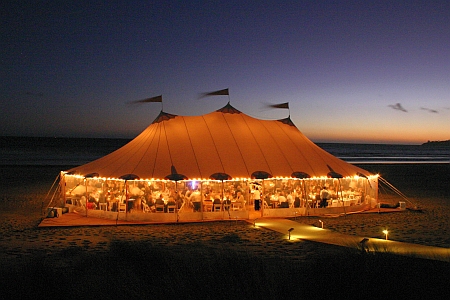 Once guests were in the tent for dinner, we had our crew place our custom cordless wood LED pathway lights for the guests to exit the tent safely.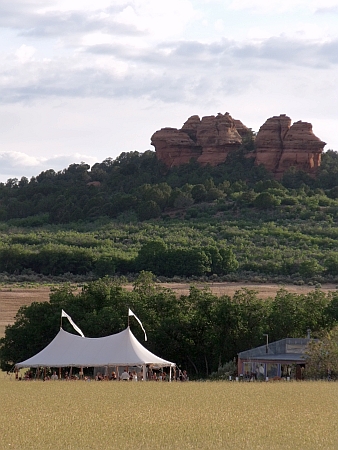 An intimate wedding in Zion National Park, Utah.  Our tents fit gracefully into even the most natural of settings.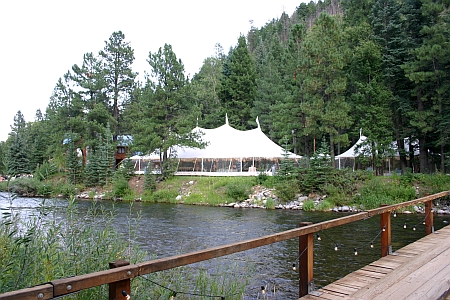 Wedding Planner, Rebecca Reategui, invited our tents and lighting to Durango, Colorado.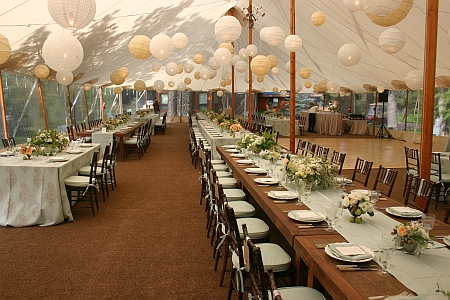 Also in Durango, floral designer, Ariella Chezar, provided gorgeous centerpieces and decor.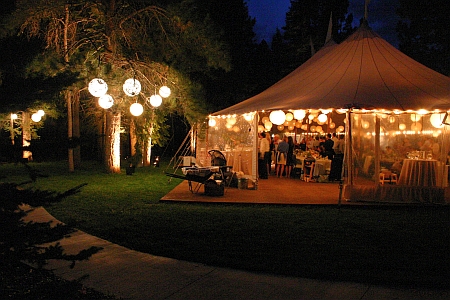 Zephyr Tents installed a custom gobo wash on the dance floor as well as over 100 Japanese lanterns hung above the tables.  Suspended lanterns in the trees provided decorative pathway lighting for the guests.
2.  Our Farm Tables, Benches & Wood Bar were VERY well received.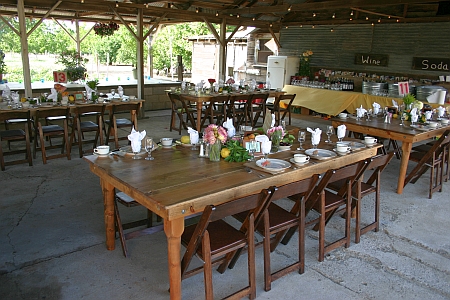 Our tables down on the farm in Winters, CA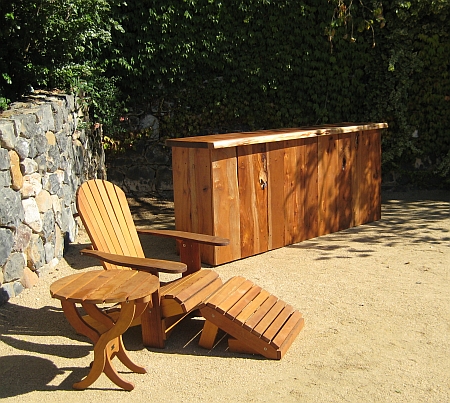 Custom wood bar and Adirondack furniture at a wedding in Sonoma Valley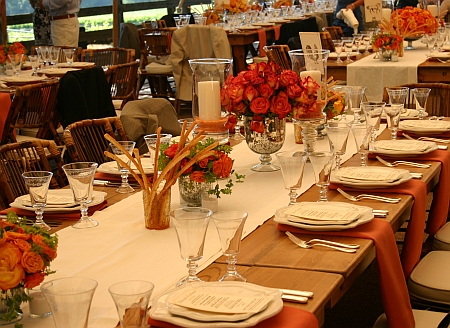 Farm tables featured at a wedding in Geyserville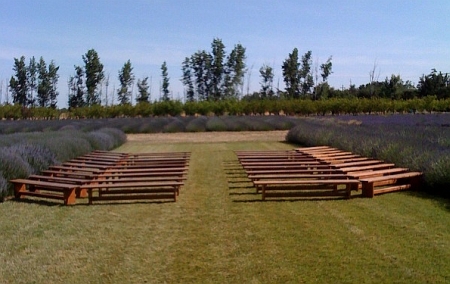 Benches set-up for a ceremony in the lavender field at Bear Flag Farm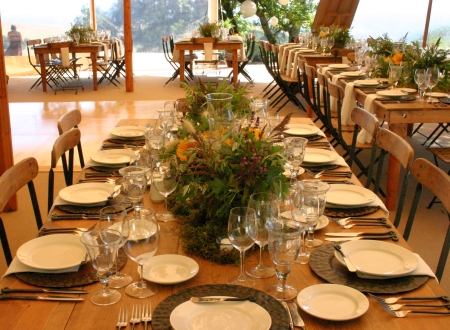 Farm Tables at a wedding in Petaluma
3.  Custom Wood Walkway
We love to build stuff!  We constructed this gorgeous walkway for a Menlo Circus Club wedding planned by Zest Productions and designer J Floral Art. These wood structures are individual 8′ sections and can be made any length.  They are quite versatile – a structure over a bar or food station, a chuppah, a canopy over a long dining table….whatever strikes your fancy!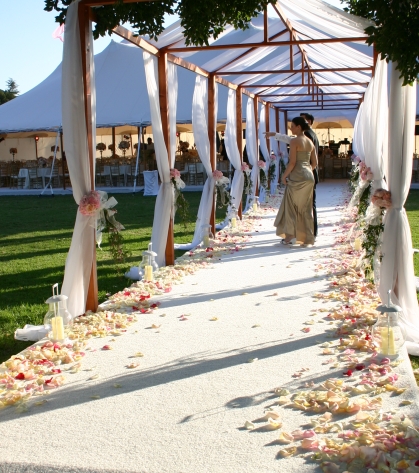 4.  Arrondi Chandeliers – designed by Tod Owsley of Zephyr Tents
These beautiful 48″ round chandeliers can be installed under a tent or in a reception room.  They are illuminated with exposed filament bulbs or LED pillar candles.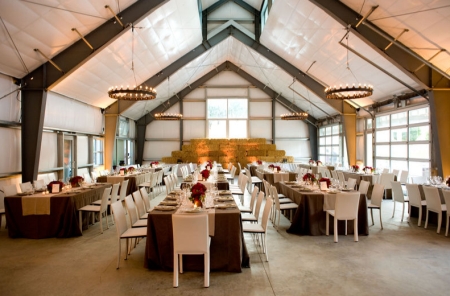 Wedding designed by Alison Events at Durham Ranch in Calistoga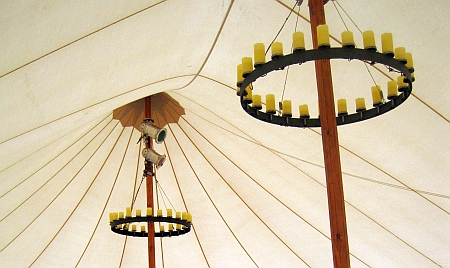 A wedding produced by Green Girl Events in Point Reyes debuted the chandeliers with LED candles.
We are gearing up for this year's weddings and cannot wait to see what 2010 will bring!
Spoken by Jen Owsley | Discussion: Comments Off on Highlights from the 2009 Wedding Season
September 8th, 2009 categories: Decor, Lighting, Products, Venues, Weddings
In mid-August, we had the pleasure of working at the Penninsula's Menlo Circus Club for an incredible wedding with Cay Lemon of Zest Productions and Jeffrey Adair of J. Floral Art.  We installed a 64'x124′ tent (our largest) on the polo field to accommodate 400 wedding guests.  In order to create a seamless and elegant entry into our tent, we designed and built a custom wood structure, 80 feet in length, that coordinated with our tent's wood poles.  J. Floral Art draped sheer white fabric over the top of the covered walkway, then gathered each section at the support poles with roses.  He completed the approach with two beautiful floral arrangements flanking the entrance.
During the daylight hours, the interior of the tent was designed with shades of white with pink accents, including custom pennants on each tent peak.  As night fell, Zephyr Tents pattern-washed the canopy and dining room in pink swirls creating a dramatic atmosphere for the after-dark festivities.  As a personal touch, we projected the bride and groom's monogram on the center of the white dancefloor.
The guests enjoyed a late-night dj lounge in the club and were treated to a pink spotlit exit from the bride and groom as they drove away via Rolls Royce.  A grand ending to a beautiful event.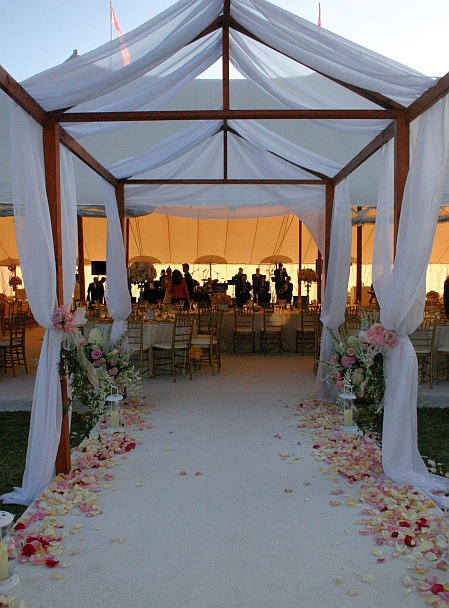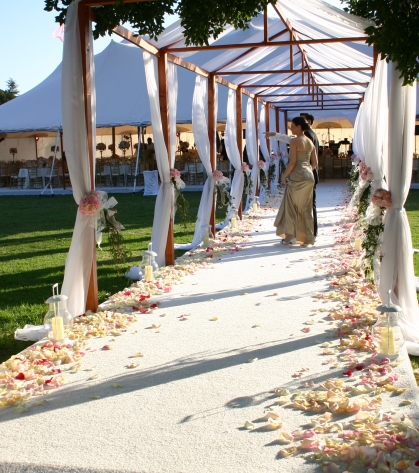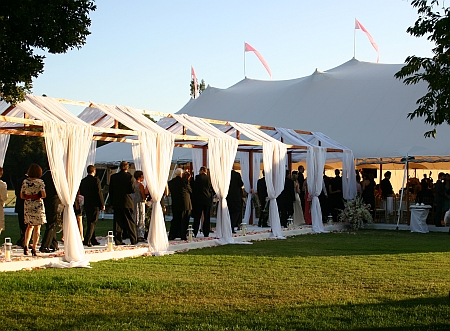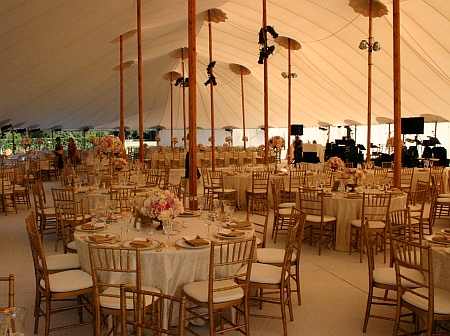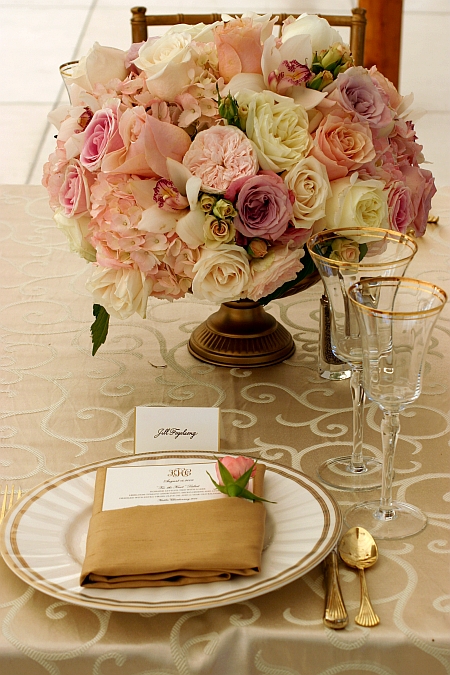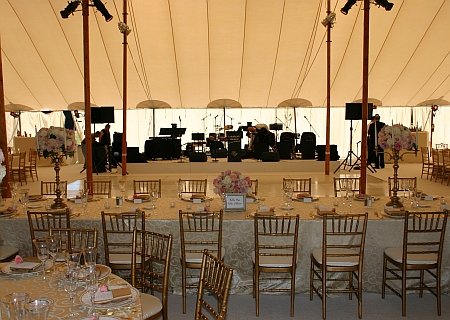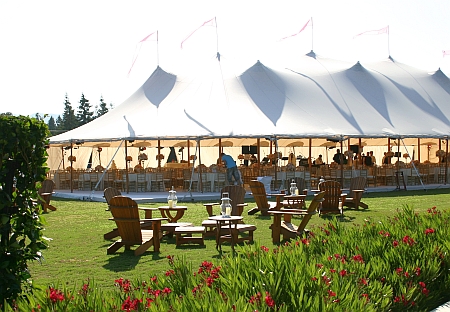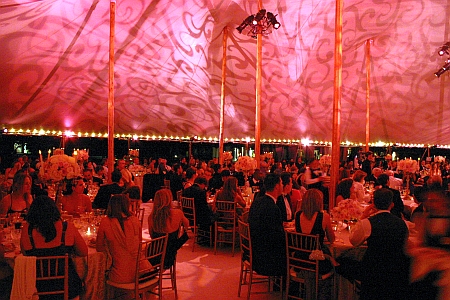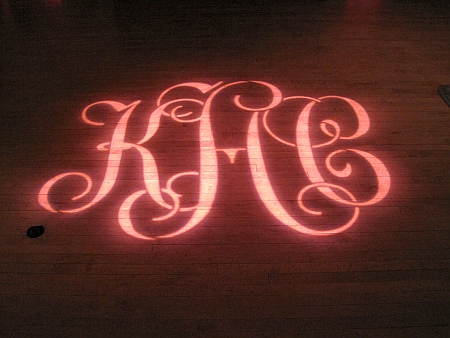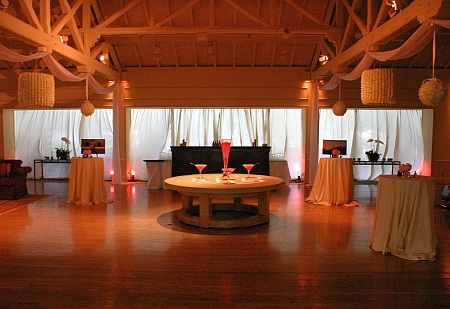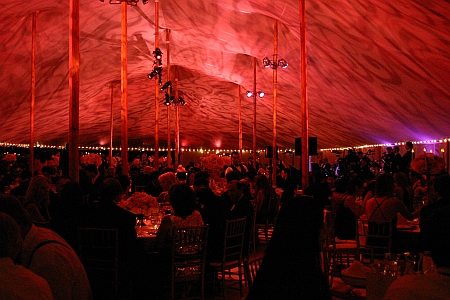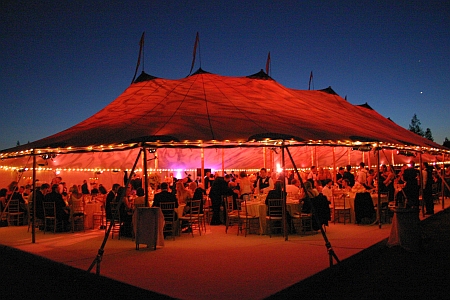 Spoken by Jen Owsley | Discussion: 1 Comment »