The Tent Line
Archive for the 'Events' Category
February 28th, 2013 Categories: Decor, Events, Lighting, Weddings
Nestled in the Sacramento Valley lies one of the last Mexican land grant properties in California AND the most perfect spot for a ranch wedding – Llano Seco Rancho.  The groom's family owns this amazing property where they raise pigs and cows organically - Llano Seco Meats.  As you may have guessed, this wedding reception did not disappoint in the protein department.
The day began with an intimate lake-side ceremony followed by a cocktail reception featuring a Charcuterie station under a 16'round canopy. Guests were encouraged to watch the The Whole Beast cook up Llano Seco meat on an open fire built out of cinder blocks with a custom meat clamp. They then feasted at our farm tables with bistro lights strung overhead.  Bacio Catering executed the service and side dishes which complemented the hearty family-style entrees.  Dancing was held under a 46′ x 64′ canopy illuminated with Arrondi Chandeliers.  Designer Sharla Flock beautified the day and wedding planner Laura McDonald of LMM events made the entire event seem effortless.
Posted by Jen Owsley | Discussion: No Comments »
January 14th, 2013 Categories: Events
Once the wedding season comes to a close, we switch gears and go into a bit of an event hibernation.  During this time, there's a ton of planning for the next season's weddings, projects to catch up on, and new products to develop.  We enjoy the slower pace for a while and then start itching for the busier months.  To keep us satiated, we have a number of smaller scale events in which we participate.  This minimilast winter cocktail party in Marin utilized our 20×20 frame tent on the deck for additional party space.  The client not only loved the tent but hired one of our charming crew members to bartend!
Posted by Jen Owsley | Discussion: No Comments »
February 5th, 2010 Categories: Decor, Events, Photos, Weddings
Rebecca Feeney, of Custom Event Group, recently shared some lovely images of a wedding on which we collaborated.    The ceremony and cocktail reception were held under a 46×80′ tent.  Too often in California, wedding guests sit in the hot sun hoping the wedding vows will commence before the heat becomes unbearable.  A tent can be incorporated into a natural setting without obstructing views and provide a retreat for your guests from that afternoon summer sun.
Designer Kathy Hoffman once again wows us with her style – love the use of vibrant yellows and oranges.
Above photos by Sara Remington
This photo was featured in the 2010 Winter issue of Martha Stewart Weddings, Anniversary Edition.  The chuppah was adorned with olive branches and magnolia leaves.
For this wedding at di Rosa Preserva in Napa, the tent was used as shelter from the rain.  Designer, Kathy Hoffman created a beautiful contemporary floral design.
Posted by Jen Owsley | Discussion: 1 Comment »
January 28th, 2010 Categories: Events, Photos, Products, Weddings
We have a passion for weddings and it's a good thing since weddings make up the majority of our business.  From great locations, wood furniture, custom built walkways and new round chandeliers, looking back on last year's wedding season, here are some of the highlights.
1.  GREAT Locations!
Stinson Beach – an idyllic setting.  We built a wood sub floor on the beach and constructed a walkway up through the dunes to the house.
Once guests were in the tent for dinner, we had our crew place our custom cordless wood LED pathway lights for the guests to exit the tent safely.
An intimate wedding in Zion National Park, Utah.  Our tents fit gracefully into even the most natural of settings.
Wedding Planner, Rebecca Reategui, invited our tents and lighting to Durango, Colorado.    
Also in Durango, floral designer, Ariella Chezar, provided gorgeous centerpieces and decor.
Zephyr Tents installed a custom gobo wash on the dance floor as well as over 100 Japanese lanterns hung above the tables.  Suspended lanterns in the trees provided decorative pathway lighting for the guests.
2.  Our Farm Tables, Benches & Wood Bar were VERY well received.
Our tables down on the farm in Winters, CA
Custom wood bar and Adirondack furniture at a wedding in Sonoma Valley
Farm tables featured at a wedding in Geyserville
Benches set-up for a ceremony in the lavender field at Bear Flag Farm
Farm Tables at a wedding in Petaluma
3.  Custom Wood Walkway
We love to build stuff!  We constructed this gorgeous walkway for a Menlo Circus Club wedding planned by Zest Productions and designer J Floral Art. These wood structures are individual 8′ sections and can be made any length.  They are quite versatile – a structure over a bar or food station, a chuppah, a canopy over a long dining table….whatever strikes your fancy!
4.  Arrondi Chandeliers – designed by Tod Owsley of Zephyr Tents
These beautiful 48″ round chandeliers can be installed under a tent or in a reception room.  They are illuminated with exposed filament bulbs or LED pillar candles.
Wedding designed by Alison Events at Durham Ranch in Calistoga
A wedding produced by Green Girl Events in Point Reyes debuted the chandeliers with LED candles.
We are gearing up for this year's weddings and cannot wait to see what 2010 will bring!
Posted by Jen Owsley | Discussion: No Comments »
June 17th, 2009 Categories: Events, Photos
We are often asked if we travel outside of the San Francisco Bay Area for tented events.  The answer is a resounding "yes"!  Our staff recently returned from Zion National Park in Utah capturing a few moments of this small celebration in a vast valley.  The photos are really more about the landscape than our tent – I can admit when we've been upstaged.   Needless to say, I'll be clearing my calendar next time we're asked to travel!
Posted by Jen Owsley | Discussion: No Comments »
June 7th, 2009 Categories: Decor, Events, Lighting, Photos
Together with our tents, a rustic barn and a working orchard created a simply elegant setting for this small farming town wedding.  The reception space surrounded a dance floor draped above with Italian bistro lights.  The tents were lit with orange and natural japanese lanterns.  Our farm tables adorned with simple centerpieces of fresh fruit and flowers were the perfect fit with the couples' theme…'farm chic', of course.
Posted by Jen Owsley | Discussion: 1 Comment »
January 19th, 2009 Categories: Decor, Events, Lighting, Photos, Products
For this grand event, we built sisal covered decks on the beach for our tents.  We also made some custom staging to accommodate the band and the various circus acts.  It was an amazingly creative party complete with contortionists performing both in the trees and in our tent.  Paula LeDuc Fine Catering executed the incredible food – the whole roasted pig being the stand out.  And of course, the extraordinary fireworks display was the perfect finale to the pinkest party in town.
Posted by Jen Owsley | Discussion: 1 Comment »
January 14th, 2009 Categories: Decor, Events, Products, Weddings
Recently, we have been asked by brides to create a rustic yet elegant setting.  Here are some great examples of weddings that depict this design concept.  We love the wood furniture as well as the idea of placing the wine bottles on dining tables for guests to help themselves.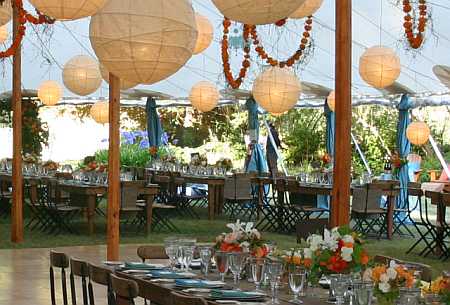 Posted by Jen Owsley | Discussion: No Comments »
December 30th, 2008 Categories: Events, Photos, Venues
For the past six years, we have been honored to provide the tenting for the Golden Gate National Parks Conservancy (GGNPC) Trails Forever Celebration dinner and auction.   The Trails Forever dinner is their most essential fundraising event providing nearly $500,000 for trail creation, refurbishment and maintenance throughout the 70 miles of coastal land that make up the Golden Gate National Park. 
The event has showcased several top designers including Radeff Design Studios, Grant & Company, Flowers Claire Marie, and Julie Haas as well as the Bay Area's finest caterers – Paula LeDuc Fine Catering, McCall Catering and Taste Catering.  The lighting has also played a huge part in creating dramatic ambiance -  supplied by lighting designers Impact Lighting, Got Light? and Da Vinci Fusion.  The auction packages are one-of-a-kind experiences in nature and food and bring in tens of thousands of dollars for the parks.  GGNPC brings our tents to locations most folks can't rent for events but wish they could.
In 2003, the dinner was held at Baker Beach – and the weather was incredible.  A heat wave allowed for the tent to be open all evening long and guests lingered late, lounging around the fire pits – a great debut!
The following year we headed up the hill to Sutro Heights Park.  Although the weather will never cooperate as it did the first year, this is San Francisco and a little fog evokes a sense of drama, doesn't it?  Cocktails cliff side overlooking Ocean Beach – a great place to spend a Friday night!
In 2005, the dinner was held at Rob Hill Campground in the Presidio.  The campground is a little-known secret and the only (legal) overnight campsite in San Francisco.  Currently the campground is undergoing some revitalization and will open again for the 2009 season.
Next stop was Fort Baker in 2006.  You can't get much closer to the Golden Gate Bridge and the view of the city is absolutely stunning. Our tents were set-up in front of the harbor.  Until just recently, you may have only been to Fort Baker if your kids enjoy the Discovery Museum or maybe you've had a drink at Mike's Place.  Now, however, the latest Passport resort, Cavallo Point, calls Fort Baker home.  We were impressed with Impact Lighting's design concept in the cocktail tent – a tree branch pattern wash on the ceiling and a leaf pattern wash on the floor – giving the illusion of autumn's falling leaves.
Last year, GGNPC showcased the restoration of the Lands End trail.  We brought out the largest tent in the fleet, a 64×124, to accommodate the ever-growing guest list.  The tent was installed on the parking lot and sod was laid beneath it for that "park-like" setting.
This fall, the Trails Forever Dinner took place on Crissy Field.  Cocktails were served marsh-side and dinner bay-side.  In addition to our tents, we provided the farm tables for dining and Adirondack furniture for lounging.  We are thrilled to have been able to be part of this special evening every year.  We only hope to be asked back in 2009…
Posted by Jen Owsley | Discussion: No Comments »
August 3rd, 2008 Categories: Decor, Events, Weddings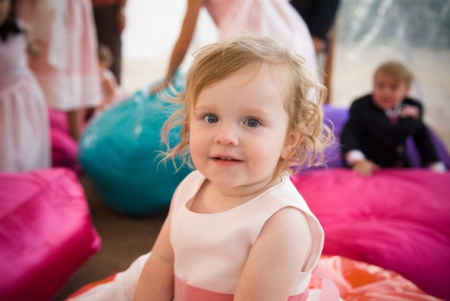 Your guest list has grown to include nieces & nephews, cousins, friends' kids, flower girls and the ring bearer.  Now, what to do with those little people during your wedding reception?  Rather than chance a meltdown or have them steal your thunder on the dance floor, why not provide them with their own celebration tent?
Zephyr tents can be outfitted with big comfy pillows, low tables, and colorful paper lanterns to create a fun and cozy atmosphere.  Hire a few nannies from a reputable agency like Nannies of the Valley who come prepared with arts & crafts, games, stickers, balloons and more.  Have your caterer design a kid-friendly menu and set-up their own special buffet.  The parents of these pampered kids will LOVE you – they'll actually get to enjoy the evening talking with adults instead of entertaining their kids.
Posted by Jen Owsley | Discussion: 2 Comments »