Events Category
November 21st, 2014 categories: Custom Fabrication, Decor, Events, Products, Venues, Weddings
We love the clean and classic look of a Sperry Tent but we also adore a good shade structure.  Working together with Alicia K Designs at the beautiful Annadel Estate Winery in Sonoma, we fabricated a 40×60 wood structure to cover 200 guests for dinner.  The result was really lovely and captured so well by the talented Carlie Statsky.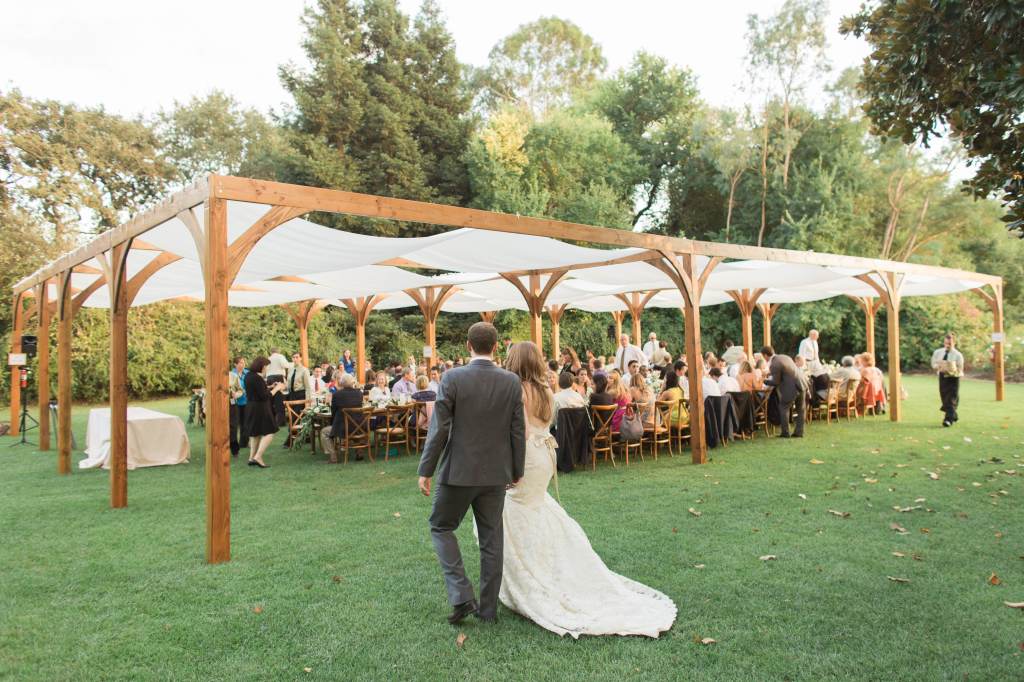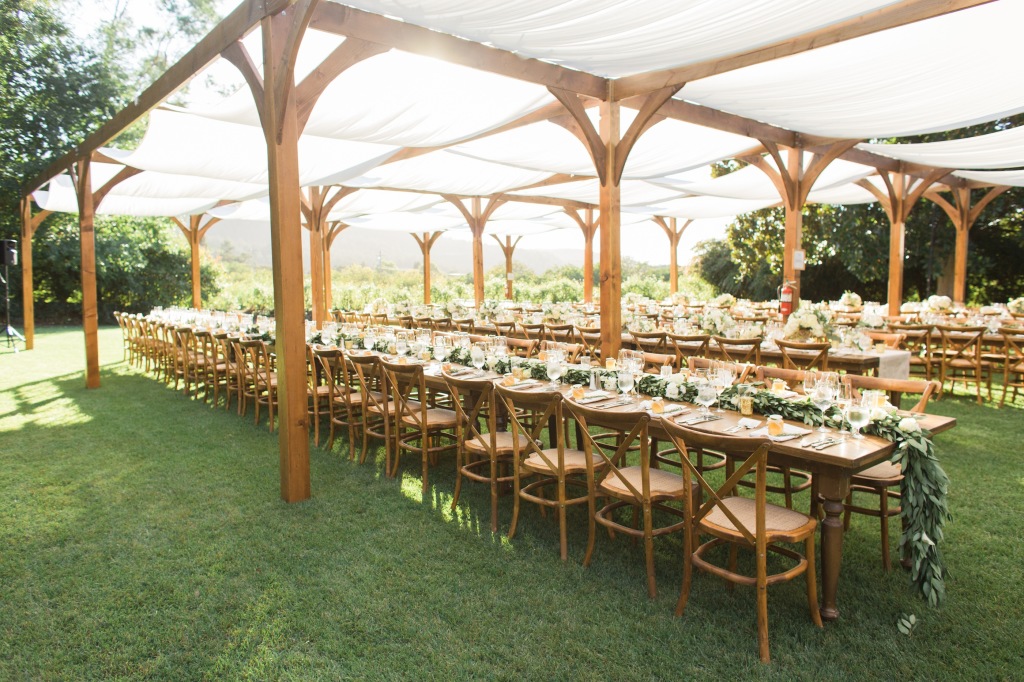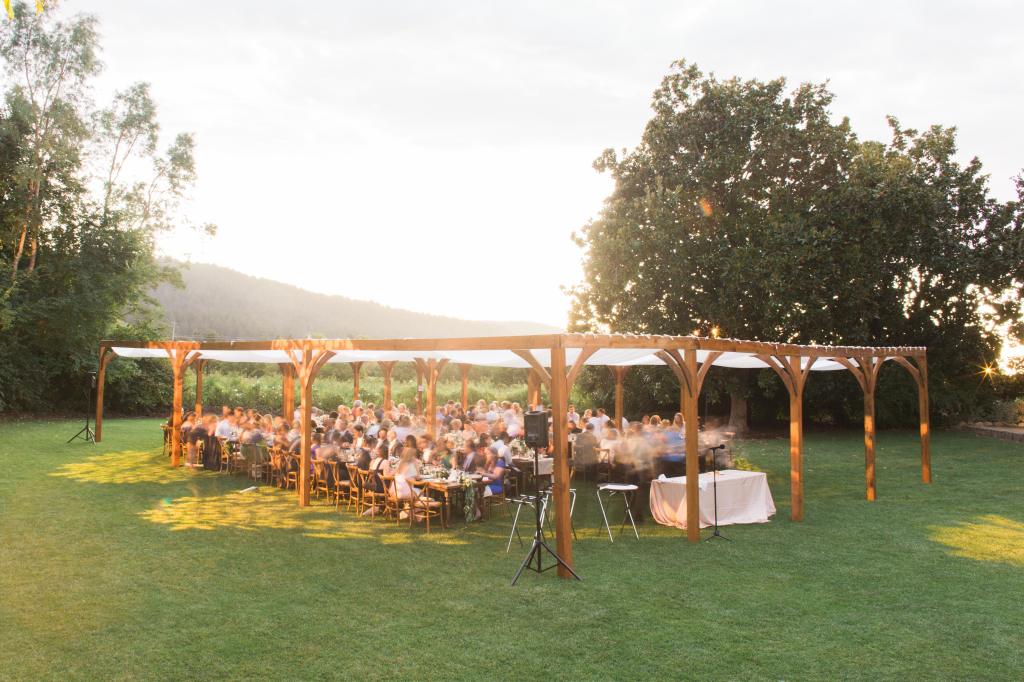 Spoken by Jen Owsley | Discussion: Comments Off on The Shade Structure – A Tenting Alternative
March 4th, 2013 categories: Custom Fabrication, Events
This past September, we received a request from Paula LeDuc Fine Catering for a last minute fabrication.  The client was the world renowned boutique, Hermès, and they came with very specific expectations.  Naturally, we were honored to be considered for this project.  Their special event, Festival des Metiers, required custom seamless bars.  This festival of crafts is a celebration of the Hermès tradition of luxury craftsmanship where guests can meet the artisans who create its coveted goods.  Within a few days time, Zephyr Tents produced and delivered the bars.  Post event, they were shipped off for the festival's next stop, Houston.  Fabricating specialty furniture is how our original farm table was born – we look forward to seeing the design ideas that will be brought to life for future events.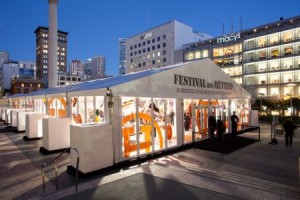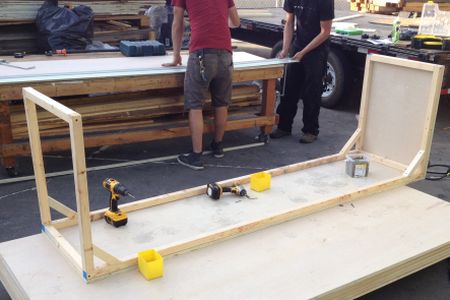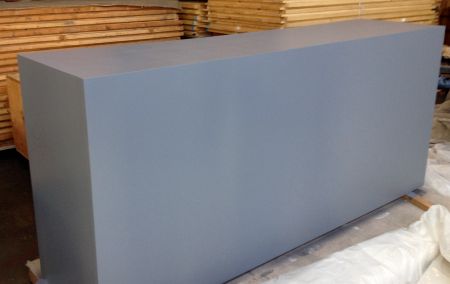 photo credit – Drew Altizer
Spoken by Jen Owsley | Discussion: Comments Off on Custom Bar Creations for Hermès
February 28th, 2013 categories: Decor, Events, Lighting, Weddings
Nestled in the Sacramento Valley lies one of the last Mexican land grant properties in California AND the most perfect spot for a ranch wedding – Llano Seco Rancho.  The groom's family owns this amazing property where they raise pigs and cows organically – Llano Seco Meats.  As you may have guessed, this wedding reception did not disappoint in the protein department.
The day began with an intimate lake-side ceremony followed by a cocktail reception featuring a Charcuterie station under a 16'round canopy. Guests were encouraged to watch the The Whole Beast cook up Llano Seco meat on an open fire built out of cinder blocks with a custom meat clamp. They then feasted at our farm tables with bistro lights strung overhead.  Bacio Catering executed the service and side dishes which complemented the hearty family-style entrees.  Dancing was held under a 46′ x 64′ canopy illuminated with Arrondi Chandeliers.  Designer Sharla Flock beautified the day and wedding planner Laura McDonald of LMM events made the entire event seem effortless.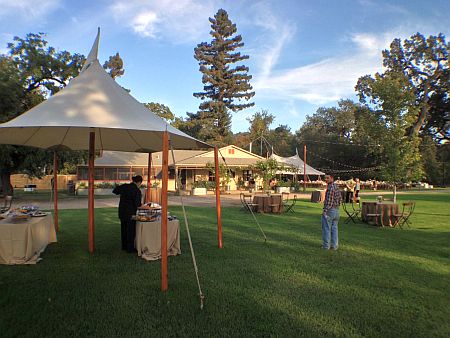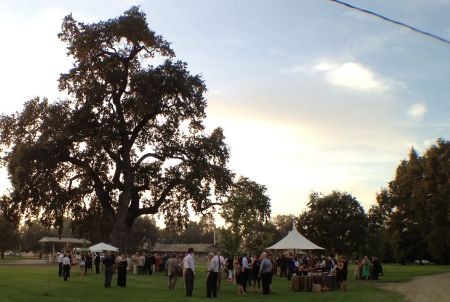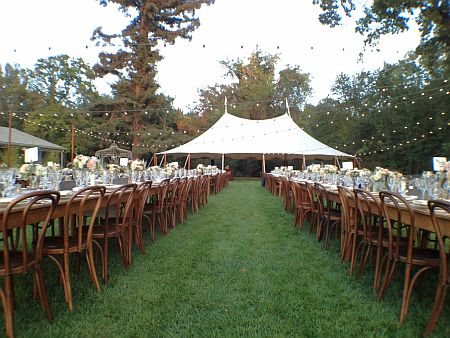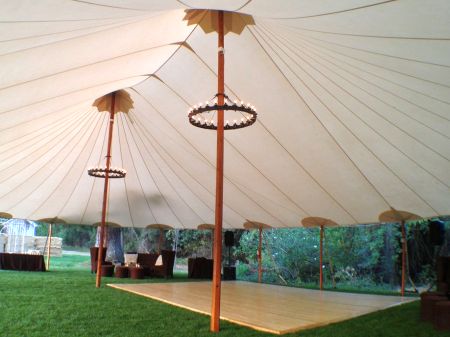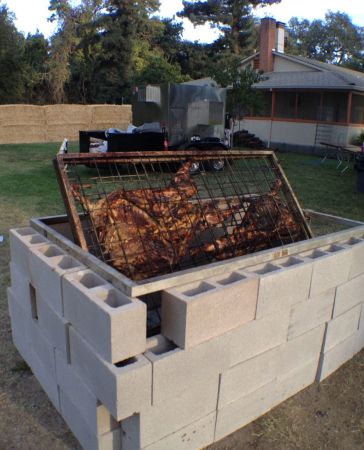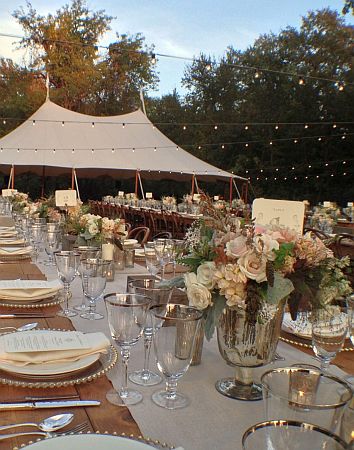 Spoken by Jen Owsley | Discussion: Comments Off on Northern California Ranch Wedding
January 14th, 2013 categories: Events
Once the wedding season comes to a close, we switch gears and go into a bit of an event hibernation.  During this time, there's a ton of planning for the next season's weddings, projects to catch up on, and new products to develop.  We enjoy the slower pace for a while and then start itching for the busier months.  To keep us satiated, we have a number of smaller scale events in which we participate.  This minimilast winter cocktail party in Marin utilized our 20×20 frame tent on the deck for additional party space.  The client not only loved the tent but hired one of our charming crew members to bartend!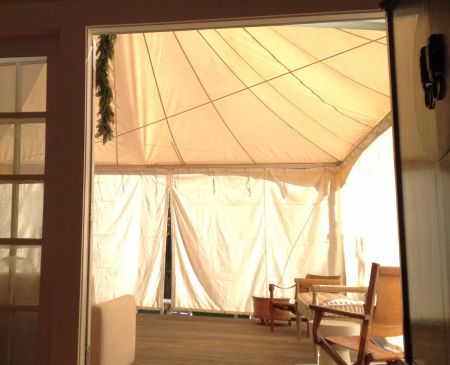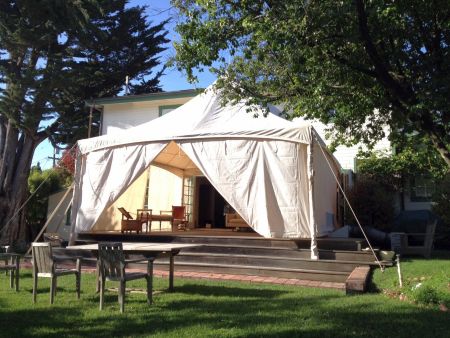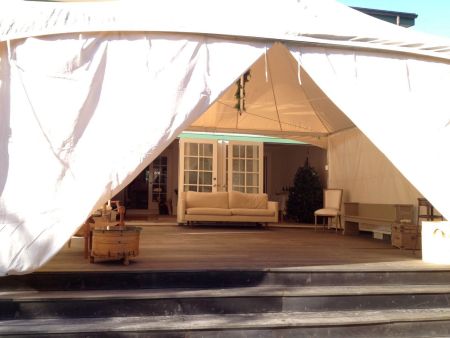 Spoken by Jen Owsley | Discussion: Comments Off on Winter Cocktail Party in Marin
February 5th, 2010 categories: Decor, Events, Photos, Weddings
Rebecca Feeney, of Custom Event Group, recently shared some lovely images of a wedding on which we collaborated.    The ceremony and cocktail reception were held under a 46×80′ tent.  Too often in California, wedding guests sit in the hot sun hoping the wedding vows will commence before the heat becomes unbearable.  A tent can be incorporated into a natural setting without obstructing views and provide a retreat for your guests from that afternoon summer sun.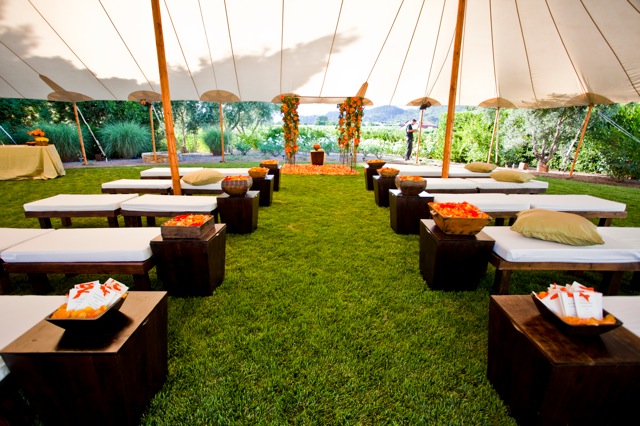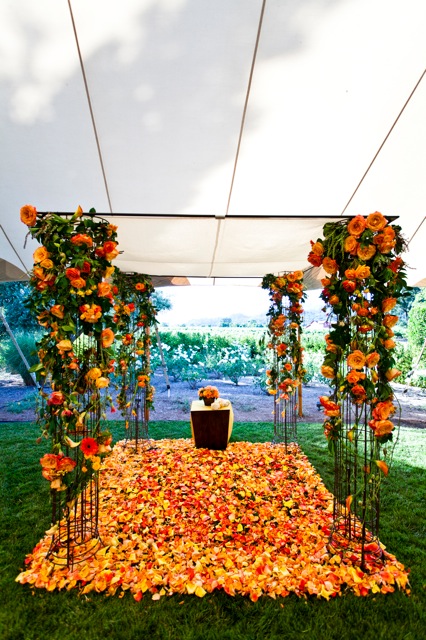 Designer Kathy Hoffman once again wows us with her style – love the use of vibrant yellows and oranges.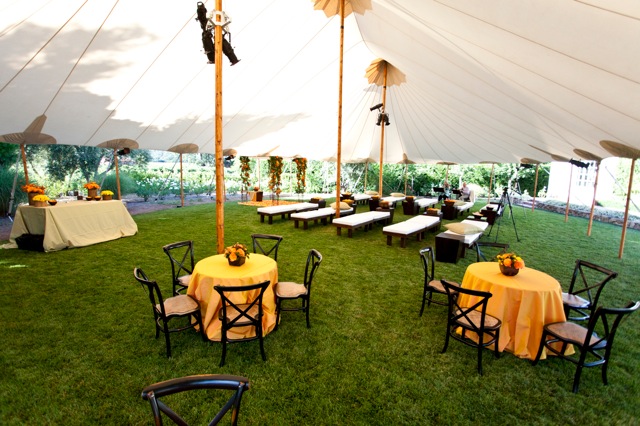 Above photos by Sara Remington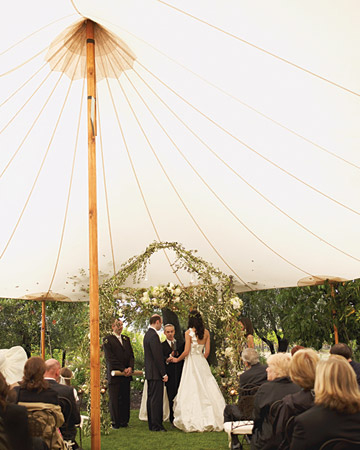 This photo was featured in the 2010 Winter issue of Martha Stewart Weddings, Anniversary Edition.  The chuppah was adorned with olive branches and magnolia leaves.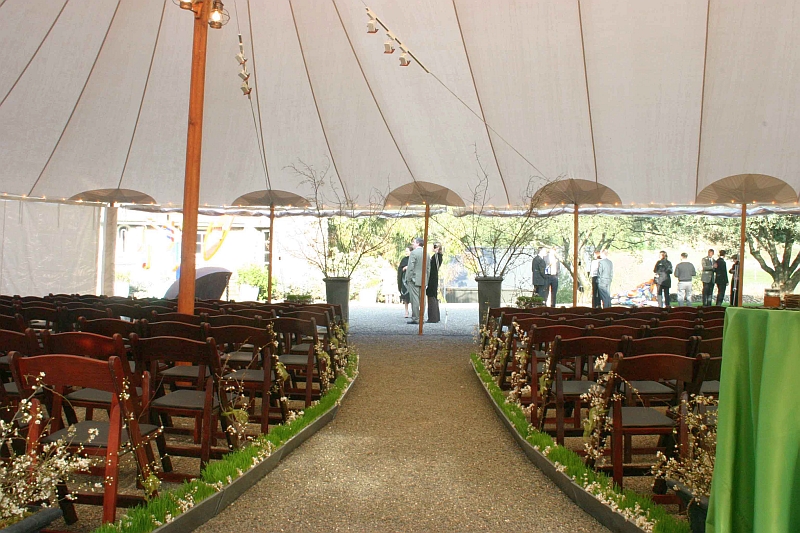 For this wedding at di Rosa Preserva in Napa, the tent was used as shelter from the rain.  Designer, Kathy Hoffman created a beautiful contemporary floral design.
Spoken by Jen Owsley | Discussion: 1 Comment »
January 28th, 2010 categories: Events, Photos, Products, Weddings
We have a passion for weddings and it's a good thing since weddings make up the majority of our business.  From great locations, wood furniture, custom built walkways and new round chandeliers, looking back on last year's wedding season, here are some of the highlights.
1.  GREAT Locations!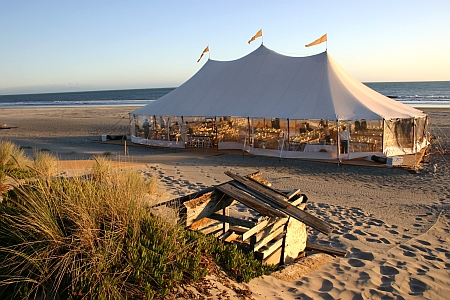 Stinson Beach – an idyllic setting.  We built a wood sub floor on the beach and constructed a walkway up through the dunes to the house.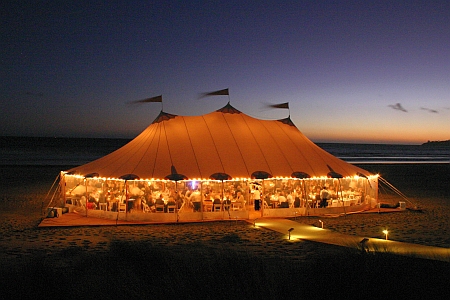 Once guests were in the tent for dinner, we had our crew place our custom cordless wood LED pathway lights for the guests to exit the tent safely.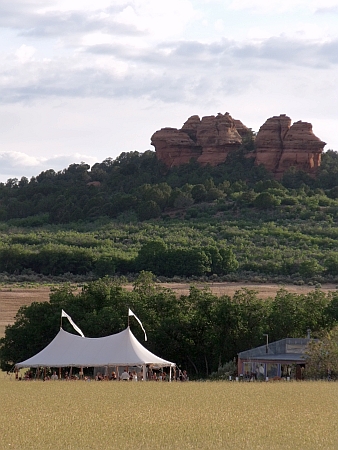 An intimate wedding in Zion National Park, Utah.  Our tents fit gracefully into even the most natural of settings.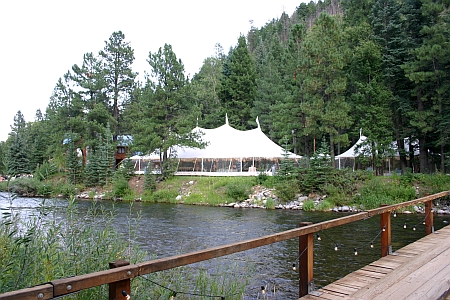 Wedding Planner, Rebecca Reategui, invited our tents and lighting to Durango, Colorado.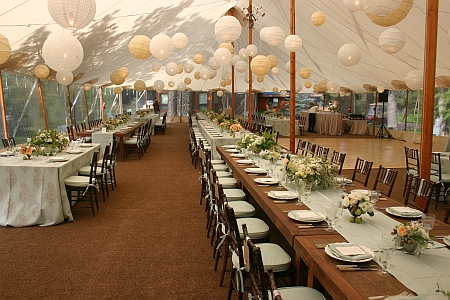 Also in Durango, floral designer, Ariella Chezar, provided gorgeous centerpieces and decor.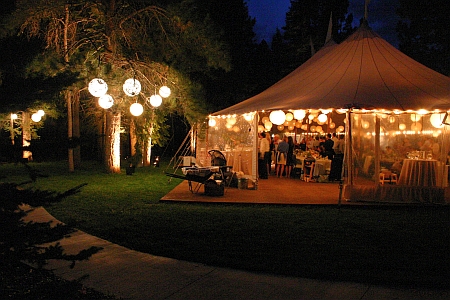 Zephyr Tents installed a custom gobo wash on the dance floor as well as over 100 Japanese lanterns hung above the tables.  Suspended lanterns in the trees provided decorative pathway lighting for the guests.
2.  Our Farm Tables, Benches & Wood Bar were VERY well received.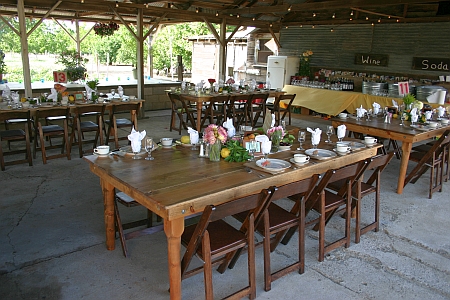 Our tables down on the farm in Winters, CA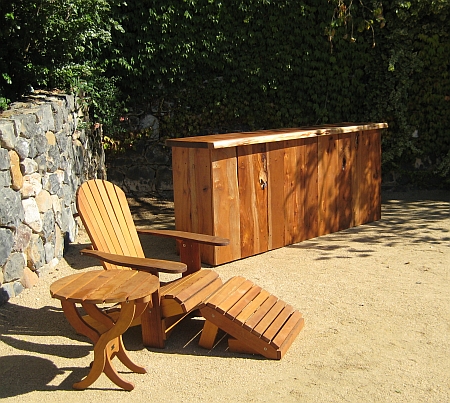 Custom wood bar and Adirondack furniture at a wedding in Sonoma Valley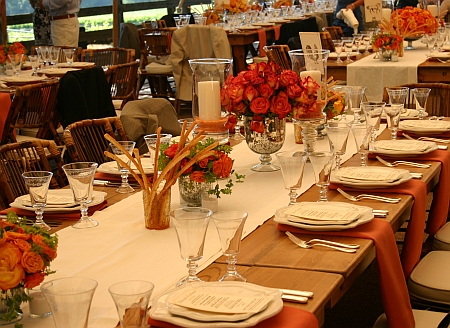 Farm tables featured at a wedding in Geyserville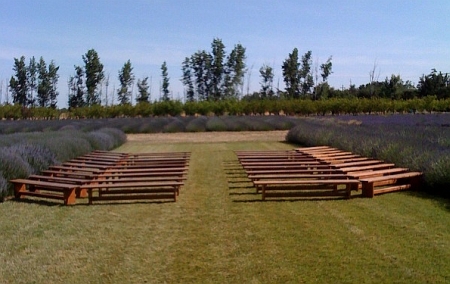 Benches set-up for a ceremony in the lavender field at Bear Flag Farm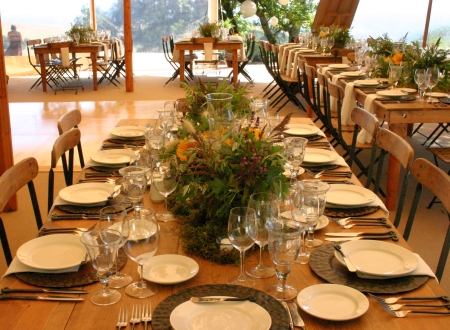 Farm Tables at a wedding in Petaluma
3.  Custom Wood Walkway
We love to build stuff!  We constructed this gorgeous walkway for a Menlo Circus Club wedding planned by Zest Productions and designer J Floral Art. These wood structures are individual 8′ sections and can be made any length.  They are quite versatile – a structure over a bar or food station, a chuppah, a canopy over a long dining table….whatever strikes your fancy!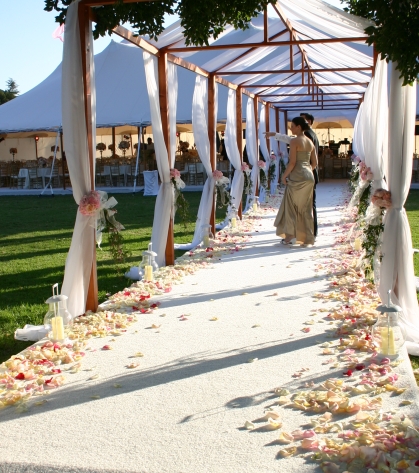 4.  Arrondi Chandeliers – designed by Tod Owsley of Zephyr Tents
These beautiful 48″ round chandeliers can be installed under a tent or in a reception room.  They are illuminated with exposed filament bulbs or LED pillar candles.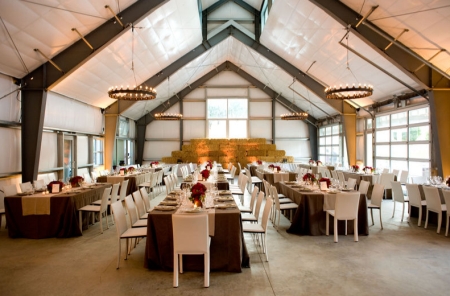 Wedding designed by Alison Events at Durham Ranch in Calistoga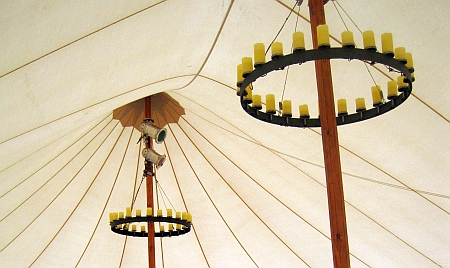 A wedding produced by Green Girl Events in Point Reyes debuted the chandeliers with LED candles.
We are gearing up for this year's weddings and cannot wait to see what 2010 will bring!
Spoken by Jen Owsley | Discussion: Comments Off on Highlights from the 2009 Wedding Season
June 17th, 2009 categories: Events, Photos, Weddings

We are often asked if we travel outside of the San Francisco Bay Area for tented events.  The answer is a resounding "yes"!  Our staff recently returned from Zion National Park in Utah capturing a few moments of this small celebration in a vast valley.  The photos are really more about the landscape than our tent – I can admit when we've been upstaged.   Needless to say, I'll be clearing my calendar next time we're asked to travel!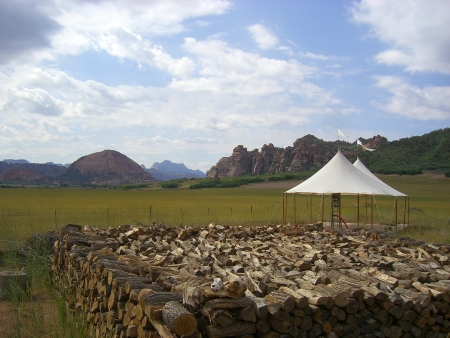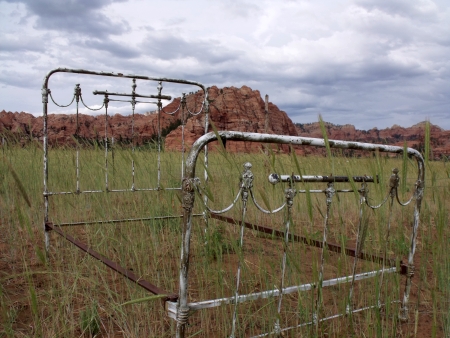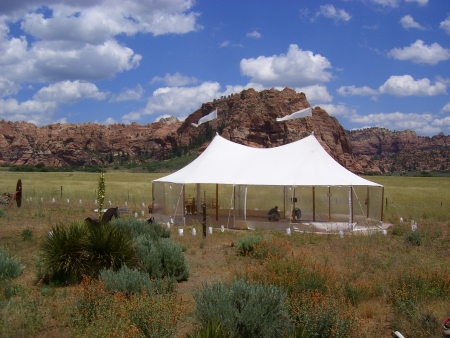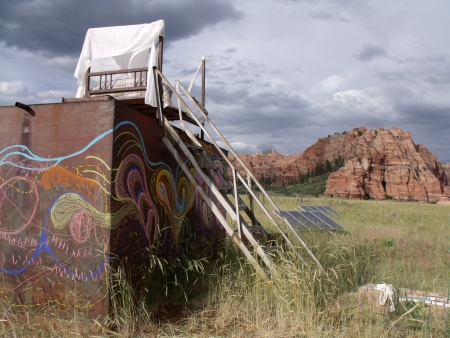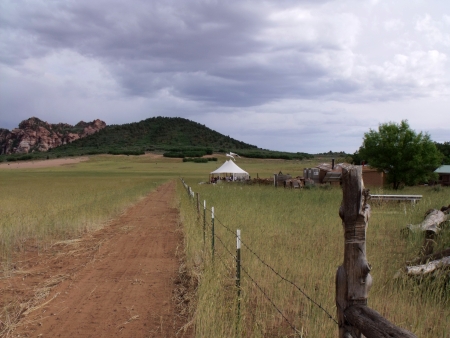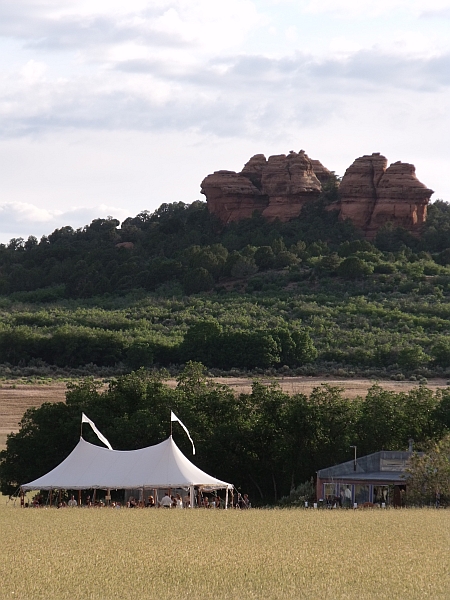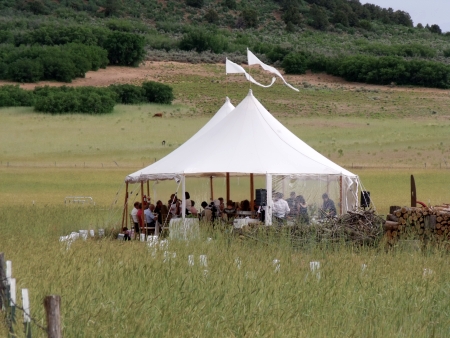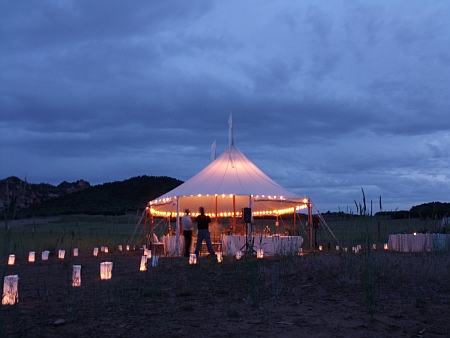 Spoken by Jen Owsley | Discussion: Comments Off on An Intimate Wedding in Zion National Park
June 7th, 2009 categories: Decor, Events, Lighting, Photos
Together with our tents, a rustic barn and a working orchard created a simply elegant setting for this small farming town wedding.  The reception space surrounded a dance floor draped above with Italian bistro lights.  The tents were lit with orange and natural japanese lanterns.  Our farm tables adorned with simple centerpieces of fresh fruit and flowers were the perfect fit with the couples' theme…'farm chic', of course.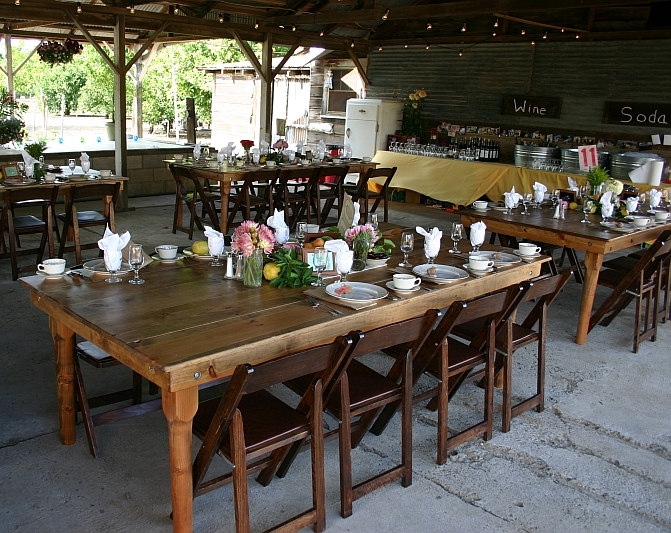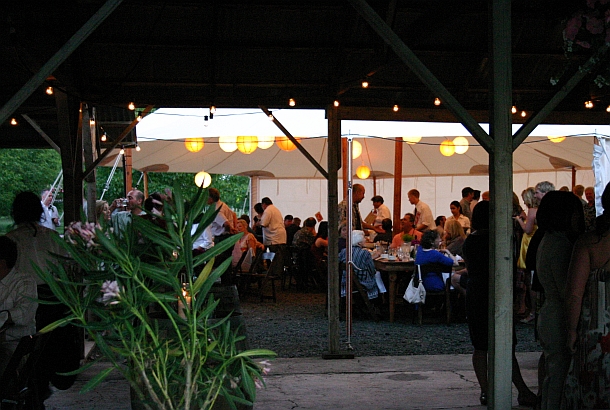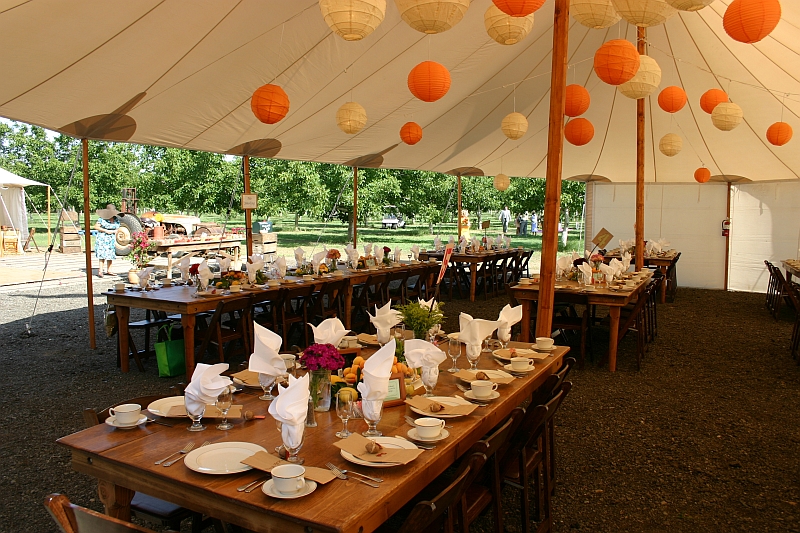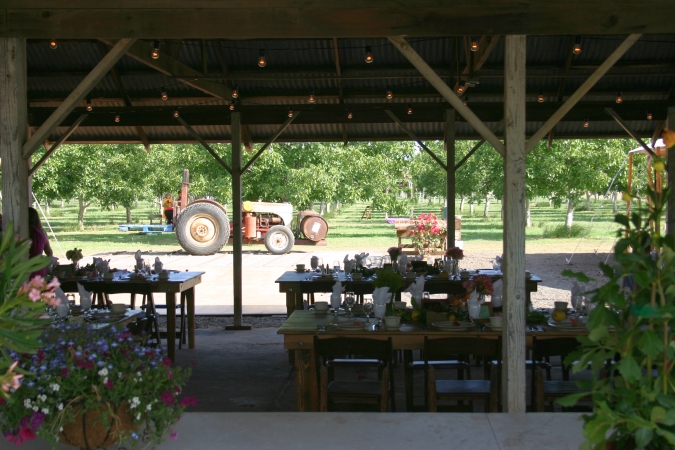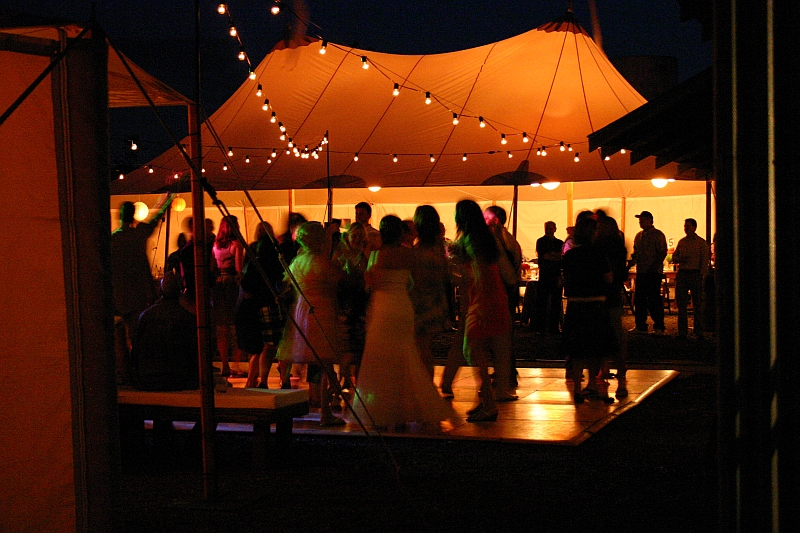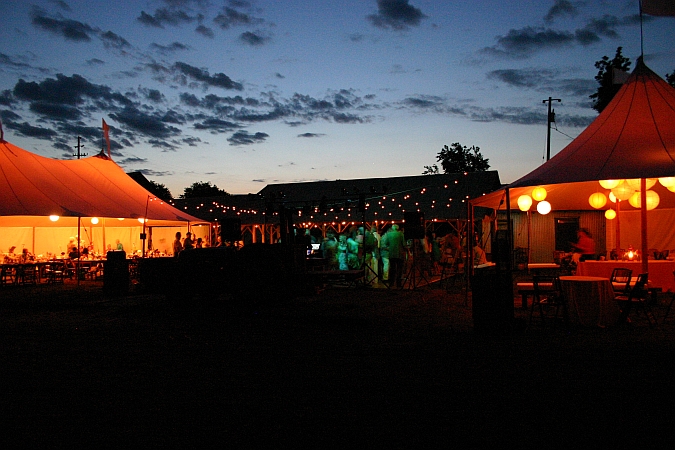 Spoken by Jen Owsley | Discussion: 1 Comment »
January 19th, 2009 categories: Decor, Events, Lighting, Photos, Products
For this grand event, we built sisal covered decks on the beach for our tents.  We also made some custom staging to accommodate the band and the various circus acts.  It was an amazingly creative party complete with contortionists performing both in the trees and in our tent.  Paula LeDuc Fine Catering executed the incredible food – the whole roasted pig being the stand out.  And of course, the extraordinary fireworks display was the perfect finale to the pinkest party in town.
Spoken by Jen Owsley | Discussion: 1 Comment »