Archive for August, 2008
August 12th, 2008 categories: Decor, Lighting, Photos, Venues, Weddings
We thought we would share some photos from a wedding at Dawn Ranch this past weekend.  This 15 acre guest ranch is a sweet little spot in Guerneville on the banks of the Russian River.  Alison Hotchkiss and Kelsey Sheofsky of Alison Events planned a fun three days of events for the guests.  Zephyr Tents provided the tenting, japanese lanterns, farm tables, benches, and Adirondack furniture.  Alison put together a great team with decor by Loop Flowers, event lighting by Refraction and catering by Grapevine Catering.
Spoken by Jen Owsley | Discussion: 1 Comment »
August 11th, 2008 categories: Products
The first time I worked as a cook in an open kitchen, I had to teach myself to use a tasting spoon instead of the preferred chef's spoon (index finger).  Once my nerves settled, I actually found it quite fun to be cooking on view.  Since I am a better diner than a cook – I now love to watch all of the hustle & behind-the-scenes action from my seat.  So many of our great San Francisco Bay Area restaurants give patrons the opportunity to have this type of inclusive dining experience.  Why not knock down the walls of the catering tent, too?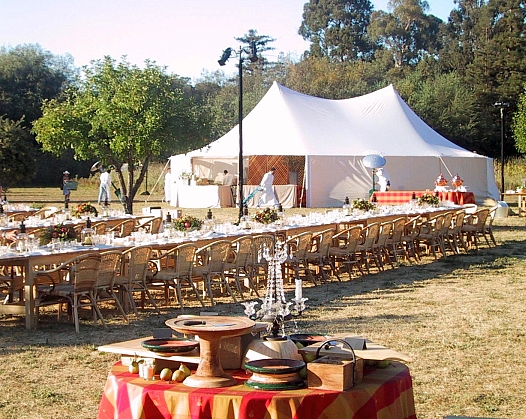 Our sailcloth tents work perfectly for an on view kitchen tent – to start with, they're pretty to look at!  Banquet tables on table leg risers draped in crisp white linen create "the line" and are used for any work space in view of guests.  The tent can be divided with a solid wall so there is still some 'back of the house storage' and a busing area.  Guests will enjoy the opportunity to watch the chefs in action.  It is awe-inspiring to see a first class meal prepared for you when dining in a field, a wine country vineyard, or on a farm.  Just remind those catering chefs sharing their craft not to lick their fingers!
Spoken by Jen Owsley | Discussion: Comments Off on Rethinking the Catering Tent: An Attractive, Functional & Entertaining Open Kitchen
August 5th, 2008 categories: Lighting, Products, Weddings
Often a couple wrestles with this question when planning an outdoor wedding on the west coast.  Back east you haven't really a choice, there's no predicting the weather so you better take cover.  However, in California it rarely rains in the summer.  But what some folks forget is that once the sun goes down, no matter how hot a day it is, the evenings are cool.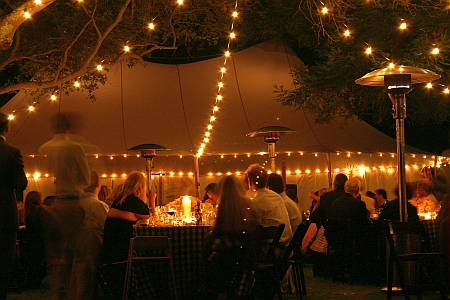 If it's cold, you'll lose your guests.  Lose your guests and there goes the party.  Our answer to the dilemma – how about both?
Dine at long tables under a canopy of Italian Bistro lights connecting to a dance tent for boogieing and late-night lounging.  Your guests will stick around 'til the wee hours in the comfort of a cozy tent.  Just think of all the stories the next morning at brunch…
Spoken by Jen Owsley | Discussion: Comments Off on The Outdoor Wedding Dilemma: Under the Stars or Under a Canopy?
August 3rd, 2008 categories: Decor, Events, Weddings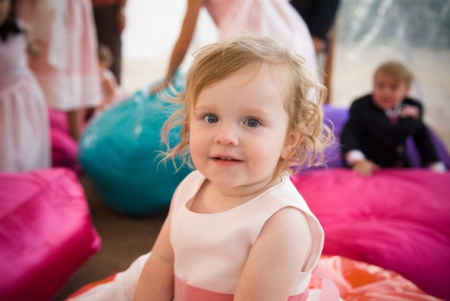 Your guest list has grown to include nieces & nephews, cousins, friends' kids, flower girls and the ring bearer.  Now, what to do with those little people during your wedding reception?  Rather than chance a meltdown or have them steal your thunder on the dance floor, why not provide them with their own celebration tent?
Zephyr tents can be outfitted with big comfy pillows, low tables, and colorful paper lanterns to create a fun and cozy atmosphere.  Hire a few nannies from a reputable agency like Nannies of the Valley who come prepared with arts & crafts, games, stickers, balloons and more.  Have your caterer design a kid-friendly menu and set-up their own special buffet.  The parents of these pampered kids will LOVE you – they'll actually get to enjoy the evening talking with adults instead of entertaining their kids.
Spoken by Jen Owsley | Discussion: 2 Comments »