Archive for June, 2008
June 20th, 2008 categories: Decor, Events, Lighting, Products, Weddings
The importance of lighting is often overlooked when planning weddings and special events. The client has so many other decisions to make – decor, food, flowers, linens, tables… – that when it comes to a less-understood element such as lighting, they have run out of gas, not to mention money. But here is why you shouldn't underestimate the importance of lighting.
Lighting is essential in setting the mood for your event. Whether the atmosphere wants to be romantic and natural or colorful and fun, the right lighting will enhance these intentions. A leaf pattern gobo achieves the effect of soft, romantic moonlight filtered through the trees and colored gels can bring any boring space to life.
Safety for your guests is also something to consider when planning your outdoor event. A site visit to the property at night will reveal how extensive and safe the existing outdoor lighting is for a large event. Most permanent landscape lighting provides enough guidance for just a few people to meander through the property. With a wedding or special event, the lighting needs to be adjusted accordingly – stairs, pathways to the restrooms and parking, and any changes to the landscape should all be high-lighted.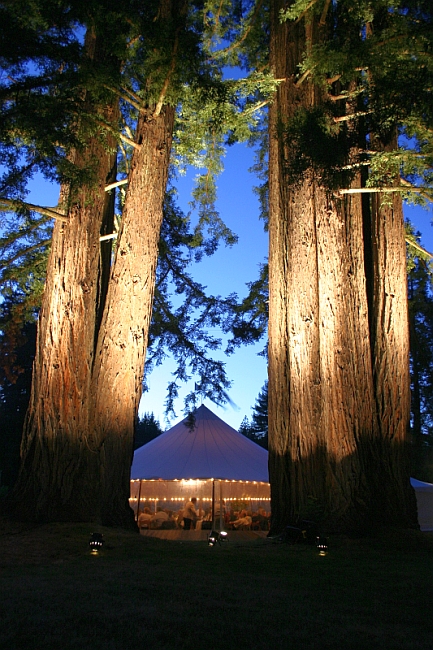 Many event sites have beautiful trees and structures that, when lit, add drama to the property at night. The details that make this site special to you should be given special attention. When up-lighting a home, focus on the unique details of the architecture and give them depth. When guests stroll the property, they'll enjoy the character of the home and landscape. We love how dramatic a redwood tree looks lit up at night.
Lighting may just be the final element you need in creating that unforgettable setting. I've been witness to too many events where everything looks so beautiful during the day but the moment the sun goes down, the décor is lost in darkness. Bottom line – you've spent a lot of your time and money on choosing just the right flowers, food, decor, linens, and location – now light your event properly so your guests will enjoy those details.
Spoken by Jen Owsley | Discussion: Comments Off on The Importance of Lighting
June 10th, 2008 categories: Events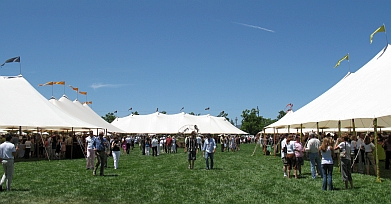 Once again, Zephyr Tents was honored to be an integral part of the Taste Napa Valley event. This was our second year as the lucky tent supplier for arguably the biggest party in Napa Valley and this year's one-of-a-kind event was just as beautiful as the last. Mary Ross and her team from Five Star Productions styled the amazing Trinchero Family Estates into a gorgeous marketplace. Our large sailcloth canopies housed over a hundred local wineries, restaurateurs and caterers and created the perfect setting to showcase their specialties. From top restaurateurs such as Thomas Keller of The French Laundry to rare wines and boutique wineries – this event had all the ingredients for the perfect event. A huge congratulations for raising $10.35 million for the community this year!
Even Oprah Winfrey stopped by to taste!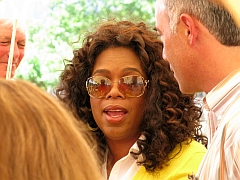 A little history…In 2007, Kate Stanley of Kate Stanley Designs was the event designer for Taste Napa Valley and conceptualized it differently. Kate was looking to create a county fair atmosphere and Zephyr Tents fit perfectly into her design concept. This was a big change since in years past the tent configuration had been more traditional with long rows of 10'x10′ canopies for the purveyors with a couple of larger tents for congregating. Kate Stanley and Jenny Owsley from Zephyr Tents worked and worked on coming up with another way to house those hundreds of food and wine purveyors. Many schematics circulated until they all fit under our large canopies. Just like that, the 10×10 "stalls" were gone. In the end, a more communal feel was achieved with everyone sharing tables under large Zephyr canopies. It was one big Napa Valley family!
Spoken by Jen Owsley | Discussion: Comments Off on Another Successful Year for Taste Napa Valley
June 9th, 2008 categories: Announcements, Products
We've always thought it would be a great idea for someone to offer wood farm tables for rent. A table that doesn't require a linen and one that promotes good company, good food, and good conversation. They're a perfect fit with the Northern California events we're so proud to be a part of.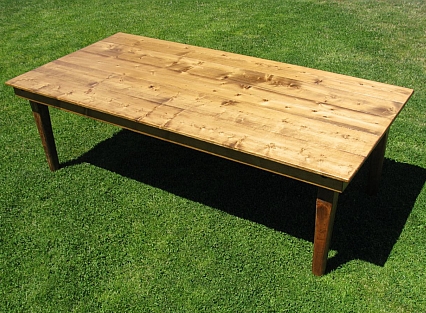 The Wine Country begs for these tables as you dine amongst the scenic vineyards enjoying family-style meals. Western Marin and it's bounty of farm land – a linen on the dining table?? I don't think so. The Sonoma coast's breeze blowing linen up over the table that has been set, and re-set all afternoon. Mendocino…what more should I say? The San Francisco Bay Area's slow food obsession is celebrating local farmers – would any other table do?
Well, we thought this was such a great idea that we decided to make them ourselves. Zephyr Tents is pleased to announce the latest of our unique offerings – beautifully hand-crafted pine-plank farm tables!
Spoken by Jen Owsley | Discussion: 4 Comments »