The importance of lighting is often overlooked when planning weddings and special events. The client has so many other decisions to make – decor, food, flowers, linens, tables… – that when it comes to a less-understood element such as lighting, they have run out of gas, not to mention money. But here is why you shouldn't underestimate the importance of lighting.
Lighting is essential in setting the mood for your event. Whether the atmosphere wants to be romantic and natural or colorful and fun, the right lighting will enhance these intentions. A leaf pattern gobo achieves the effect of soft, romantic moonlight filtered through the trees and colored gels can bring any boring space to life.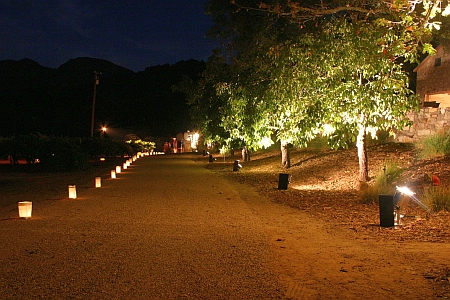 Safety for your guests is also something to consider when planning your outdoor event. A site visit to the property at night will reveal how extensive and safe the existing outdoor lighting is for a large event. Most permanent landscape lighting provides enough guidance for just a few people to meander through the property. With a wedding or special event, the lighting needs to be adjusted accordingly – stairs, pathways to the restrooms and parking, and any changes to the landscape should all be high-lighted.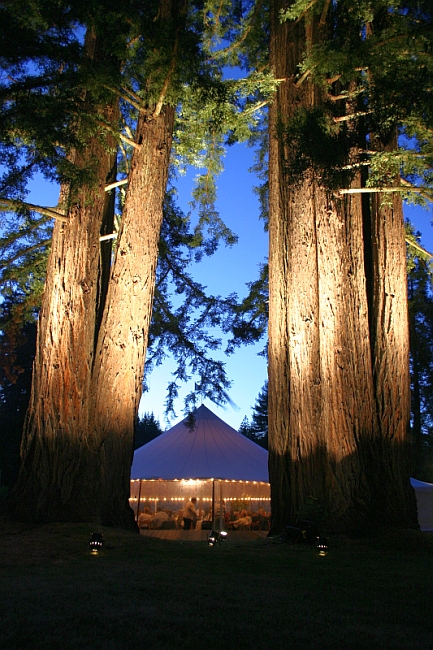 Many event sites have beautiful trees and structures that, when lit, add drama to the property at night. The details that make this site special to you should be given special attention. When up-lighting a home, focus on the unique details of the architecture and give them depth. When guests stroll the property, they'll enjoy the character of the home and landscape. We love how dramatic a redwood tree looks lit up at night.
Lighting may just be the final element you need in creating that unforgettable setting. I've been witness to too many events where everything looks so beautiful during the day but the moment the sun goes down, the décor is lost in darkness. Bottom line – you've spent a lot of your time and money on choosing just the right flowers, food, decor, linens, and location – now light your event properly so your guests will enjoy those details.