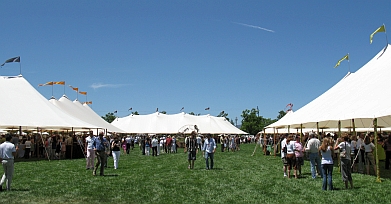 Once again, Zephyr Tents was honored to be an integral part of the Taste Napa Valley event. This was our second year as the lucky tent supplier for arguably the biggest party in Napa Valley and this year's one-of-a-kind event was just as beautiful as the last. Mary Ross and her team from Five Star Productions styled the amazing Trinchero Family Estates into a gorgeous marketplace. Our large sailcloth canopies housed over a hundred local wineries, restaurateurs and caterers and created the perfect setting to showcase their specialties. From top restaurateurs such as Thomas Keller of The French Laundry to rare wines and boutique wineries – this event had all the ingredients for the perfect event. A huge congratulations for raising $10.35 million for the community this year!
Even Oprah Winfrey stopped by to taste!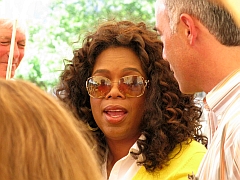 A little history…In 2007, Kate Stanley of Kate Stanley Designs was the event designer for Taste Napa Valley and conceptualized it differently. Kate was looking to create a county fair atmosphere and Zephyr Tents fit perfectly into her design concept. This was a big change since in years past the tent configuration had been more traditional with long rows of 10'x10′ canopies for the purveyors with a couple of larger tents for congregating. Kate Stanley and Jenny Owsley from Zephyr Tents worked and worked on coming up with another way to house those hundreds of food and wine purveyors. Many schematics circulated until they all fit under our large canopies. Just like that, the 10×10 "stalls" were gone. In the end, a more communal feel was achieved with everyone sharing tables under large Zephyr canopies. It was one big Napa Valley family!