For the past six years, we have been honored to provide the tenting for the Golden Gate National Parks Conservancy (GGNPC) Trails Forever Celebration dinner and auction.   The Trails Forever dinner is their most essential fundraising event providing nearly $500,000 for trail creation, refurbishment and maintenance throughout the 70 miles of coastal land that make up the Golden Gate National Park.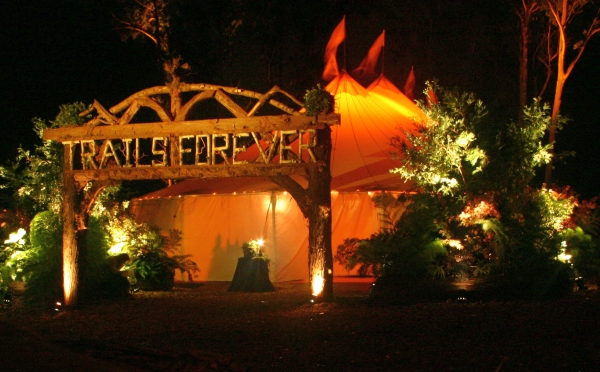 The event has showcased several top designers including Radeff Design Studios, Grant & Company, Flowers Claire Marie, and Julie Haas as well as the Bay Area's finest caterers – Paula LeDuc Fine Catering, McCall Catering and Taste Catering.  The lighting has also played a huge part in creating dramatic ambiance –  supplied by lighting designers Impact Lighting, Got Light? and Da Vinci Fusion.  The auction packages are one-of-a-kind experiences in nature and food and bring in tens of thousands of dollars for the parks.  GGNPC brings our tents to locations most folks can't rent for events but wish they could.

In 2003, the dinner was held at Baker Beach – and the weather was incredible.  A heat wave allowed for the tent to be open all evening long and guests lingered late, lounging around the fire pits – a great debut!
The following year we headed up the hill to Sutro Heights Park.  Although the weather will never cooperate as it did the first year, this is San Francisco and a little fog evokes a sense of drama, doesn't it?  Cocktails cliff side overlooking Ocean Beach – a great place to spend a Friday night!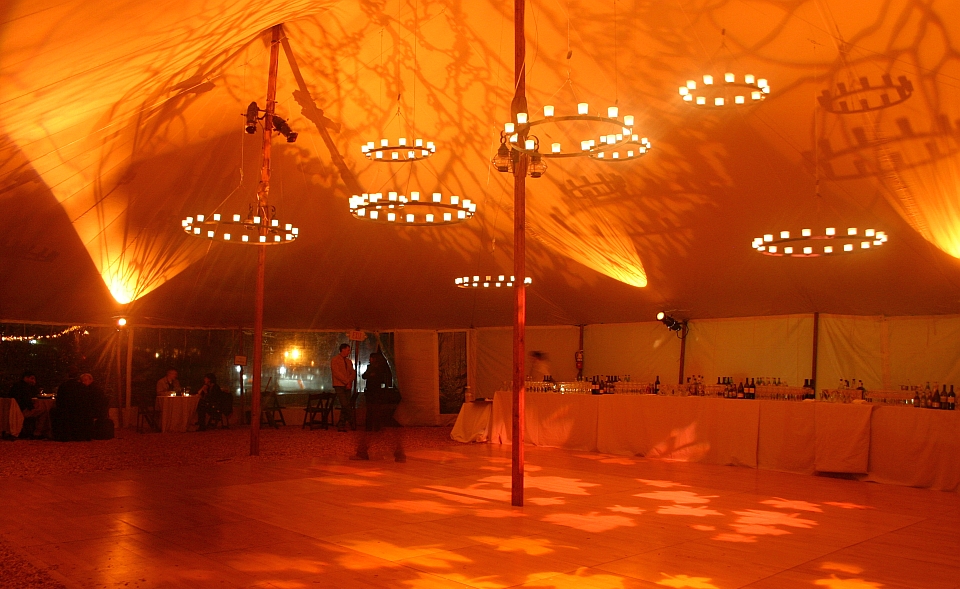 In 2005, the dinner was held at Rob Hill Campground in the Presidio.  The campground is a little-known secret and the only (legal) overnight campsite in San Francisco.  Currently the campground is undergoing some revitalization and will open again for the 2009 season.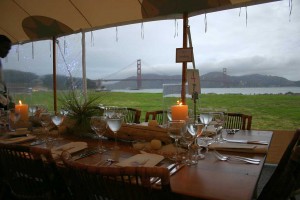 Next stop was Fort Baker in 2006.  You can't get much closer to the Golden Gate Bridge and the view of the city is absolutely stunning. Our tents were set-up in front of the harbor.  Until just recently, you may have only been to Fort Baker if your kids enjoy the Discovery Museum or maybe you've had a drink at Mike's Place.  Now, however, the latest Passport resort, Cavallo Point, calls Fort Baker home.  We were impressed with Impact Lighting's design concept in the cocktail tent – a tree branch pattern wash on the ceiling and a leaf pattern wash on the floor – giving the illusion of autumn's falling leaves.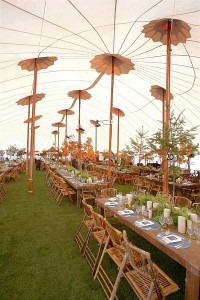 Last year, GGNPC showcased the restoration of the Lands End trail.  We brought out the largest tent in the fleet, a 64×124, to accommodate the ever-growing guest list.  The tent was installed on the parking lot and sod was laid beneath it for that "park-like" setting.
This fall, the Trails Forever Dinner took place on Crissy Field.  Cocktails were served marsh-side and dinner bay-side.  In addition to our tents, we provided the farm tables for dining and Adirondack furniture for lounging.  We are thrilled to have been able to be part of this special evening every year.  We only hope to be asked back in 2009…