Venues Category
November 21st, 2014 categories: Custom Fabrication, Decor, Events, Products, Venues, Weddings
We love the clean and classic look of a Sperry Tent but we also adore a good shade structure.  Working together with Alicia K Designs at the beautiful Annadel Estate Winery in Sonoma, we fabricated a 40×60 wood structure to cover 200 guests for dinner.  The result was really lovely and captured so well by the talented Carlie Statsky.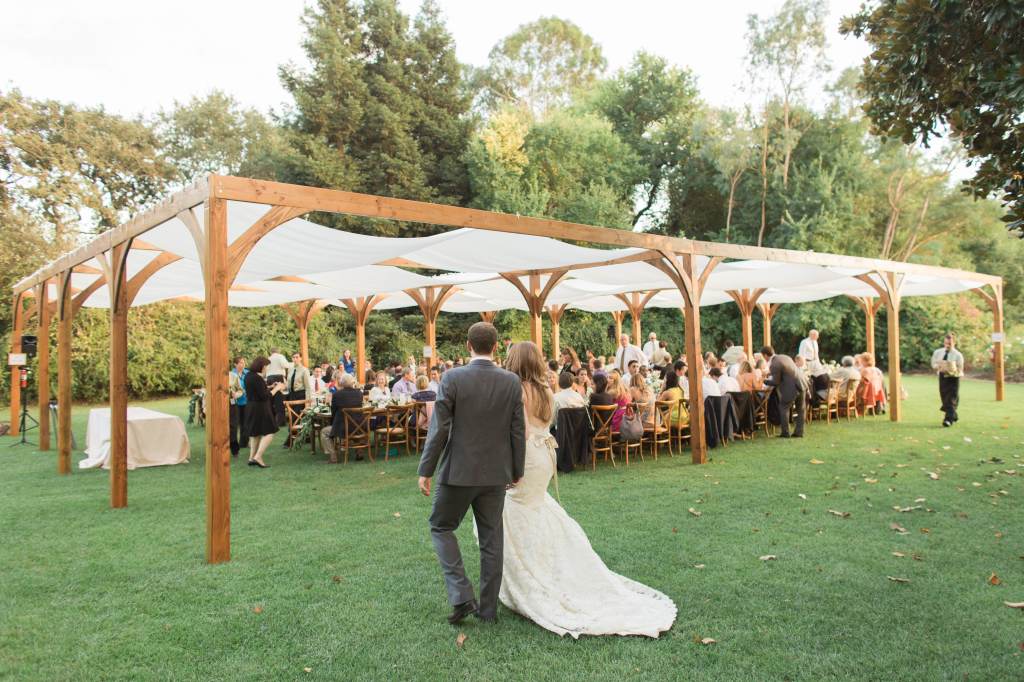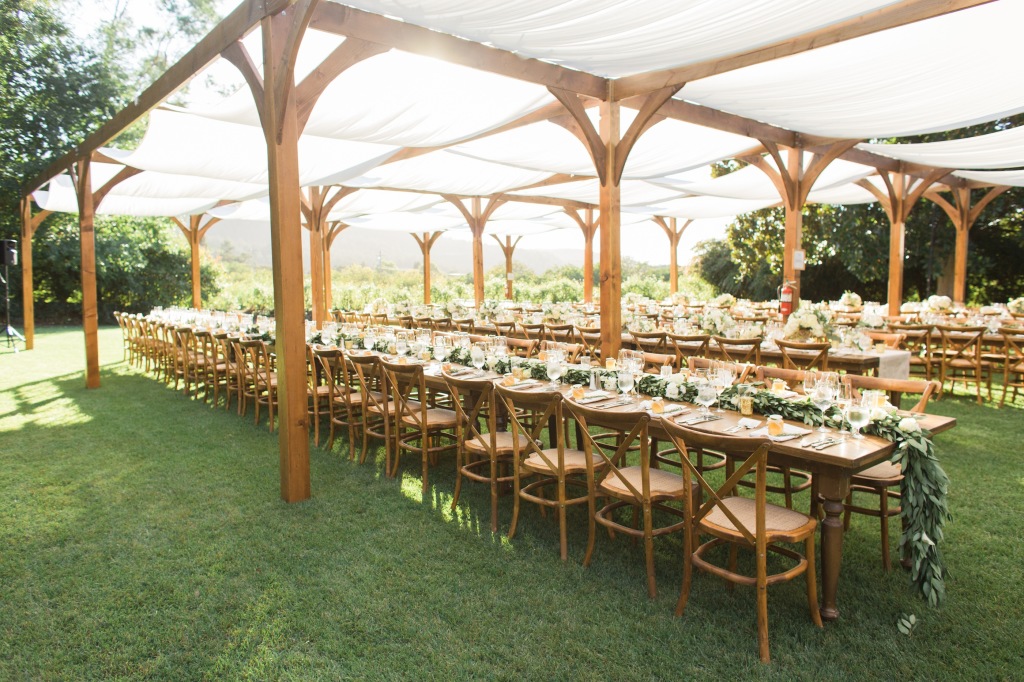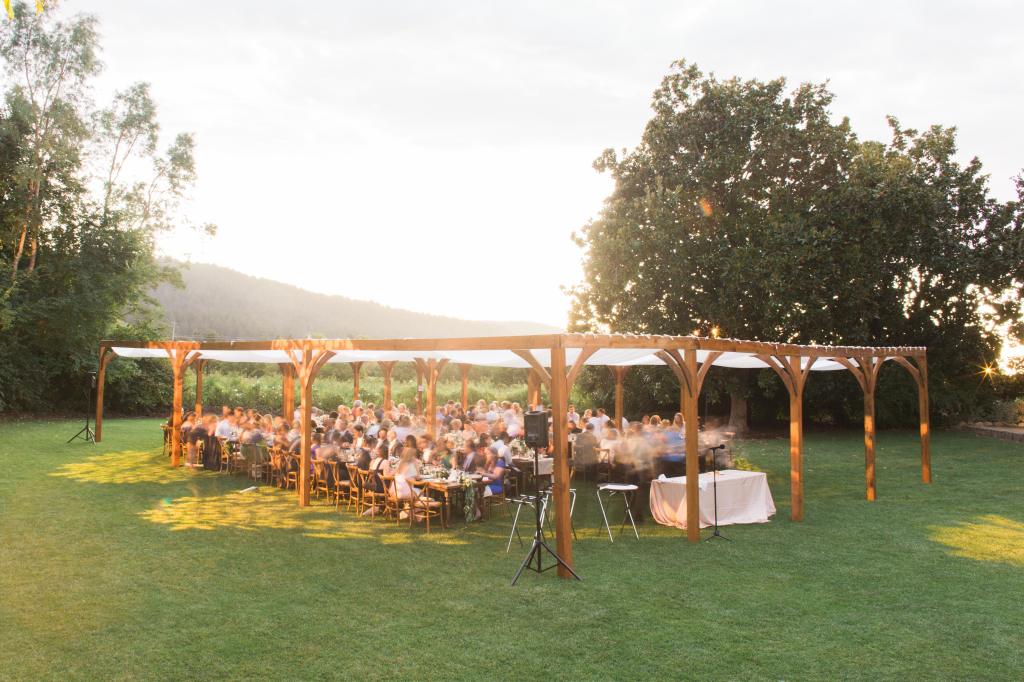 Spoken by Jen Owsley | Discussion: Comments Off on The Shade Structure – A Tenting Alternative
September 8th, 2009 categories: Decor, Lighting, Products, Venues, Weddings
In mid-August, we had the pleasure of working at the Penninsula's Menlo Circus Club for an incredible wedding with Cay Lemon of Zest Productions and Jeffrey Adair of J. Floral Art.  We installed a 64'x124′ tent (our largest) on the polo field to accommodate 400 wedding guests.  In order to create a seamless and elegant entry into our tent, we designed and built a custom wood structure, 80 feet in length, that coordinated with our tent's wood poles.  J. Floral Art draped sheer white fabric over the top of the covered walkway, then gathered each section at the support poles with roses.  He completed the approach with two beautiful floral arrangements flanking the entrance.
During the daylight hours, the interior of the tent was designed with shades of white with pink accents, including custom pennants on each tent peak.  As night fell, Zephyr Tents pattern-washed the canopy and dining room in pink swirls creating a dramatic atmosphere for the after-dark festivities.  As a personal touch, we projected the bride and groom's monogram on the center of the white dancefloor.
The guests enjoyed a late-night dj lounge in the club and were treated to a pink spotlit exit from the bride and groom as they drove away via Rolls Royce.  A grand ending to a beautiful event.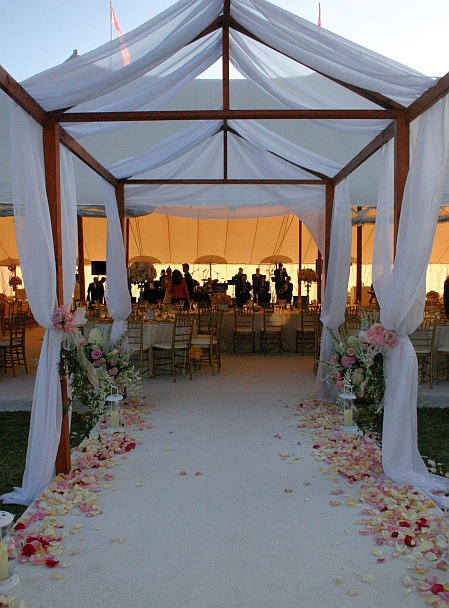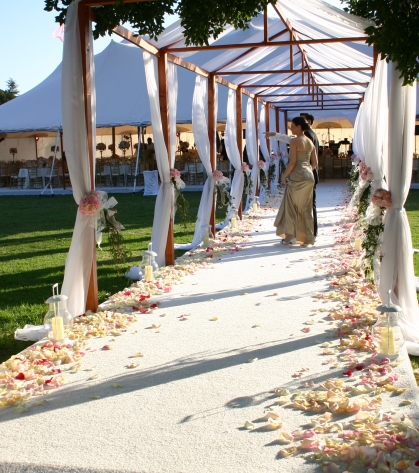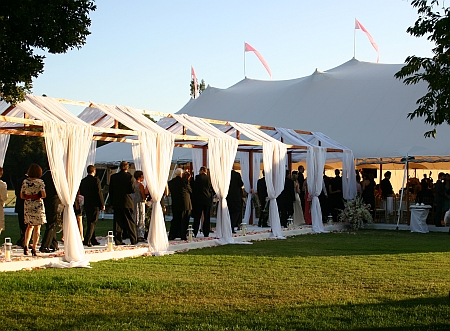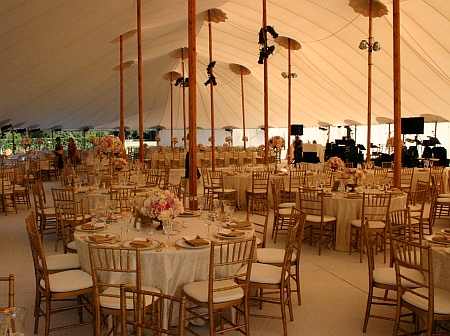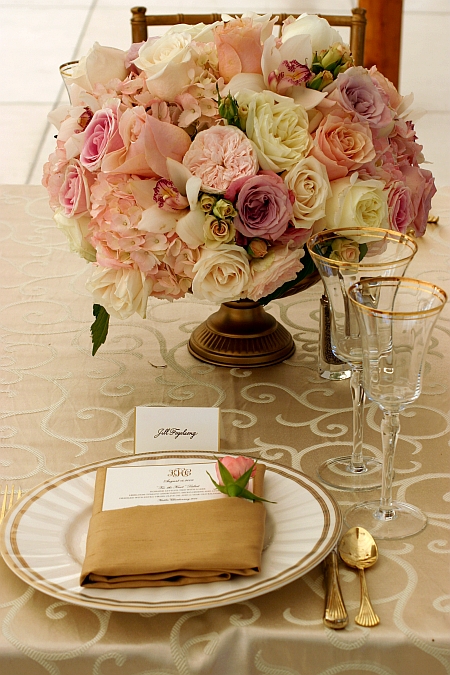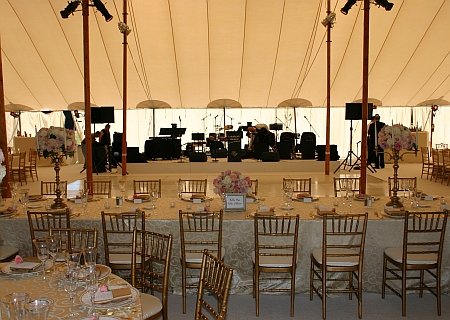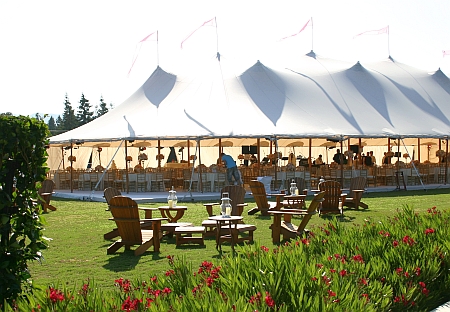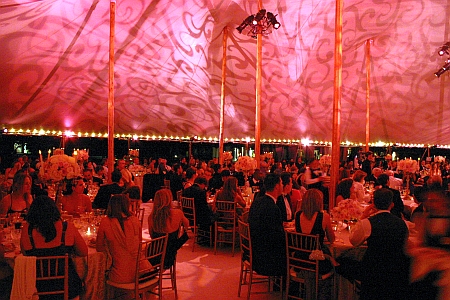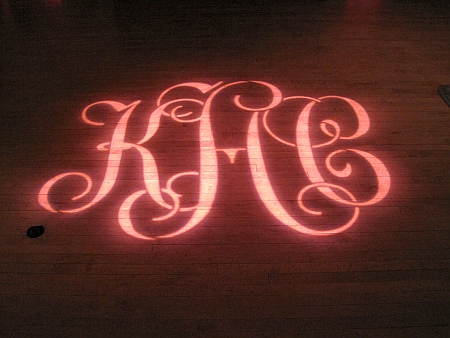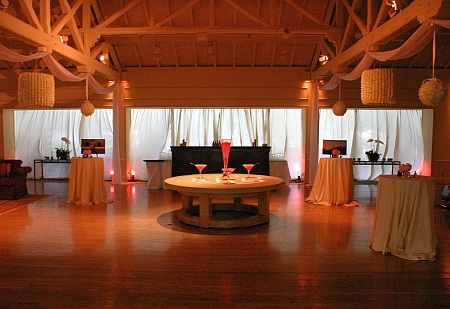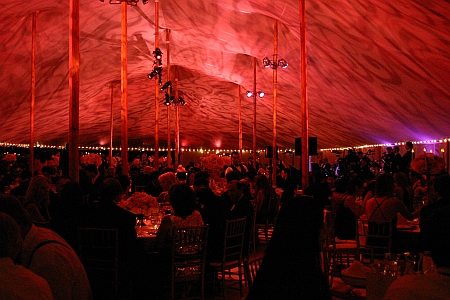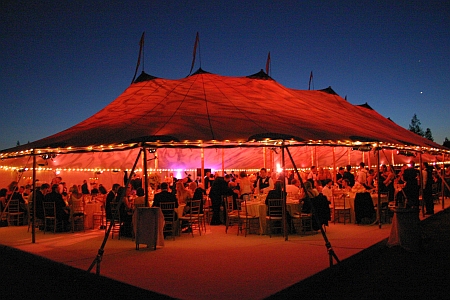 Spoken by Jen Owsley | Discussion: 1 Comment »
July 29th, 2009 categories: Venues, Weddings
We are fortunate to visit many special places and wanted to share some recent photos from one of our favorites.  Bear Flag Farm is a Northern California organic farm specializing in beautiful weddings.  Tina Reikes, farmer girl and wedding designer, creates gorgeous events together with her clients and vendors.  Lavendar fields, sunflowers, olives, vineyards, stone fruit trees and heirloom tomatoes – what better place to celebrate life, love and food.  We especially enjoy seeing the changes on the farm throughout the seasons.
Thank you to Cooper Carras, Gene Higa & Ann Hamilton for the beautiful photos!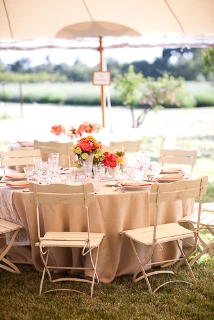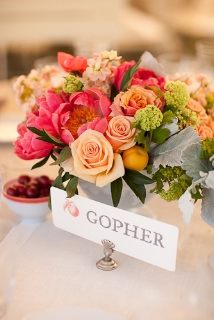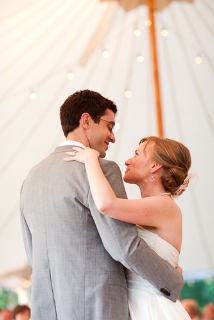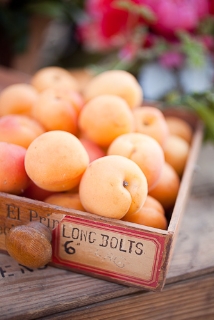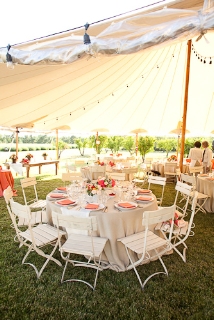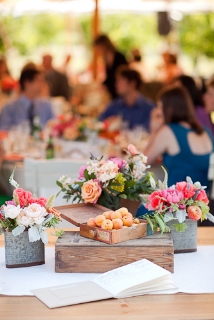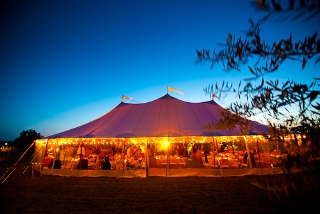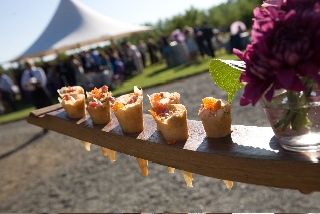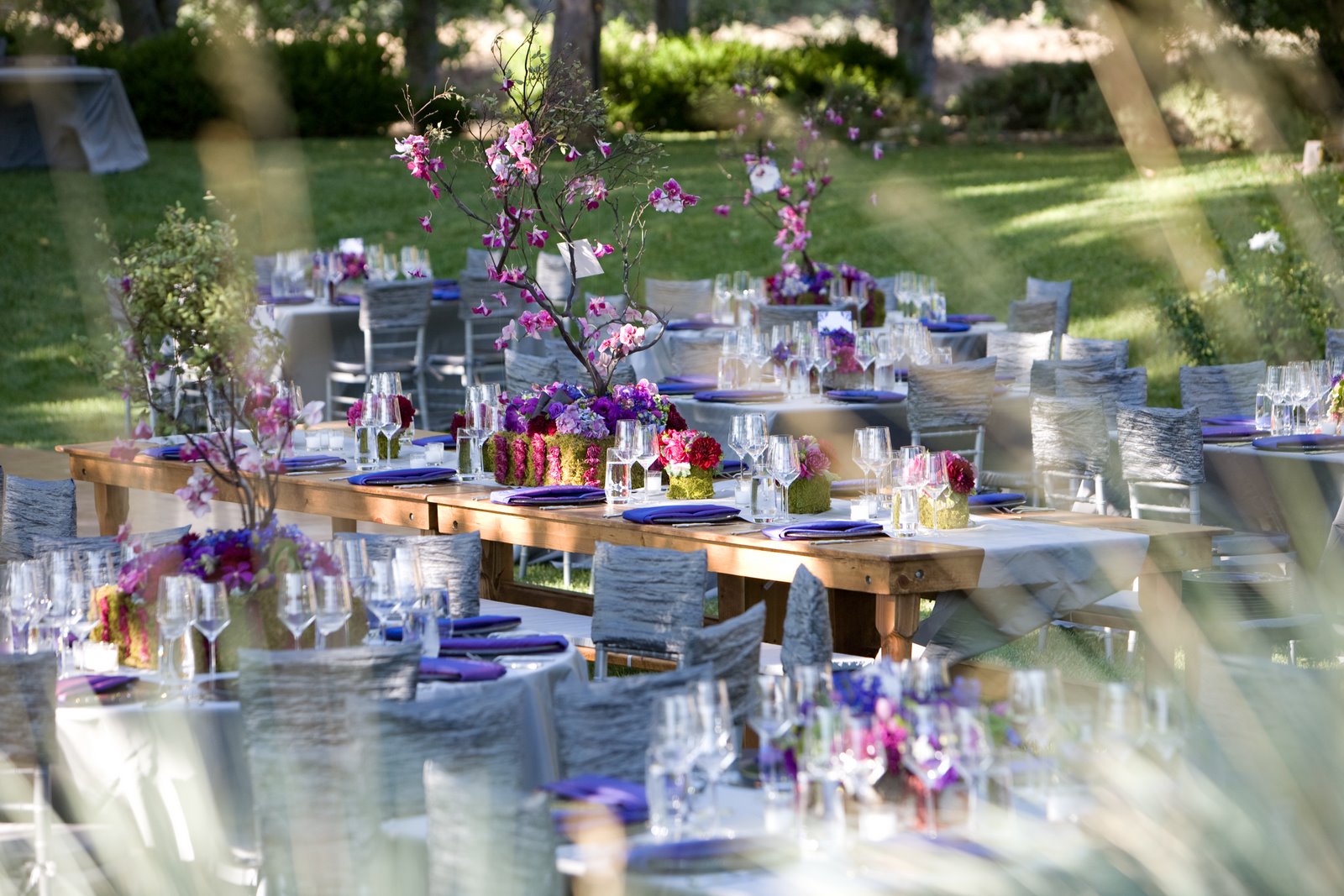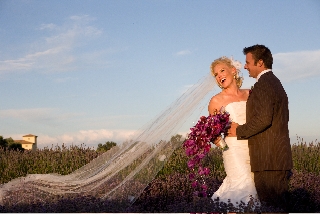 Spoken by Jen Owsley | Discussion: Comments Off on Featured Wedding Venue – Bear Flag Farm
July 28th, 2009 categories: Decor, Lighting, Photos, Products, Venues, Weddings
Along the Russian River, there's an unassuming location, perfect for a couple with a vision.  Parker's Resort is a campground in Guerneville and rents out for private events.  The bride and groom chose a Moroccan theme – the dinner tent was adorned with Moroccan hanging lanterns (rented from Raj Tents) and colorful paper lanterns were hung in the blue star lounge tent complete with Moroccan furnishings.  The guests danced into the wee hours al fresco under a canopy of bistro lights.   Just another testament to our tents' ability to transform a space and act as a blank canvas for a variety of motifs.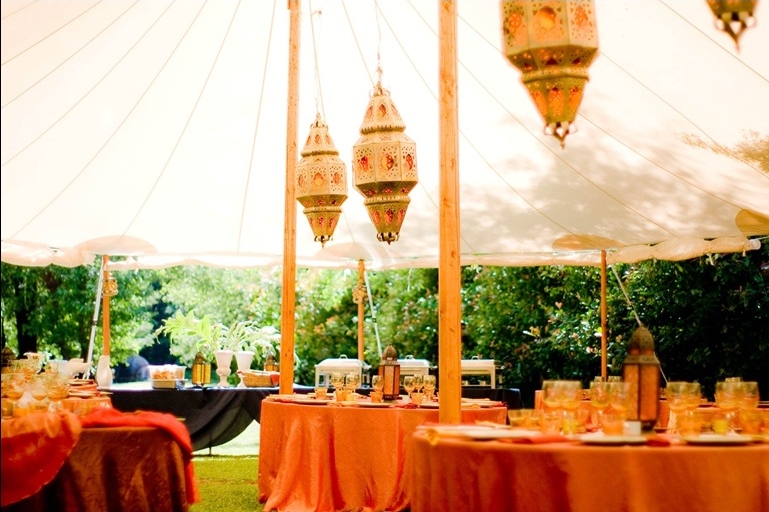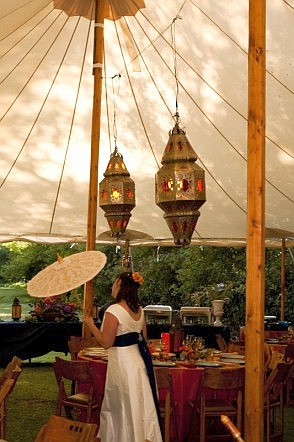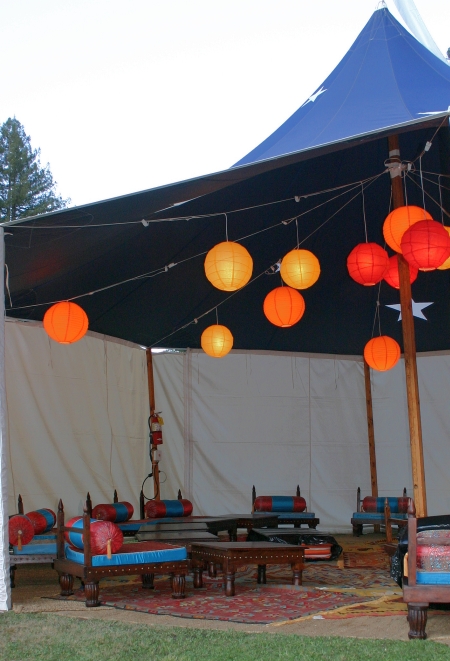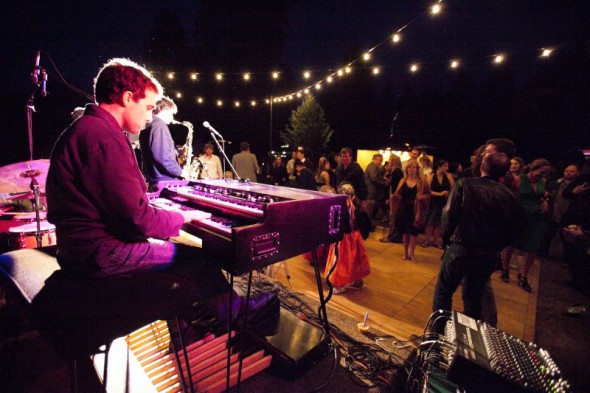 Spoken by Jen Owsley | Discussion: Comments Off on A Russian River Wedding with Moroccan Flair
December 30th, 2008 categories: Events, Photos, Venues
For the past six years, we have been honored to provide the tenting for the Golden Gate National Parks Conservancy (GGNPC) Trails Forever Celebration dinner and auction.   The Trails Forever dinner is their most essential fundraising event providing nearly $500,000 for trail creation, refurbishment and maintenance throughout the 70 miles of coastal land that make up the Golden Gate National Park.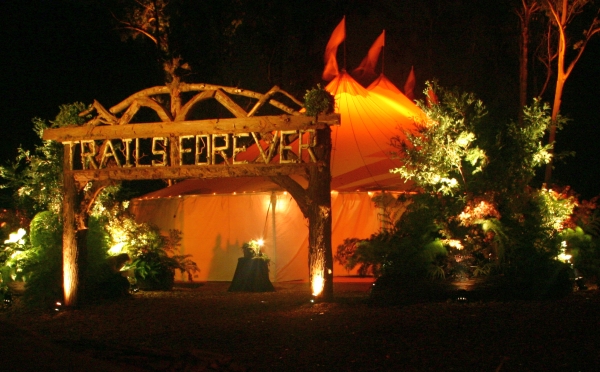 The event has showcased several top designers including Radeff Design Studios, Grant & Company, Flowers Claire Marie, and Julie Haas as well as the Bay Area's finest caterers – Paula LeDuc Fine Catering, McCall Catering and Taste Catering.  The lighting has also played a huge part in creating dramatic ambiance –  supplied by lighting designers Impact Lighting, Got Light? and Da Vinci Fusion.  The auction packages are one-of-a-kind experiences in nature and food and bring in tens of thousands of dollars for the parks.  GGNPC brings our tents to locations most folks can't rent for events but wish they could.

In 2003, the dinner was held at Baker Beach – and the weather was incredible.  A heat wave allowed for the tent to be open all evening long and guests lingered late, lounging around the fire pits – a great debut!
The following year we headed up the hill to Sutro Heights Park.  Although the weather will never cooperate as it did the first year, this is San Francisco and a little fog evokes a sense of drama, doesn't it?  Cocktails cliff side overlooking Ocean Beach – a great place to spend a Friday night!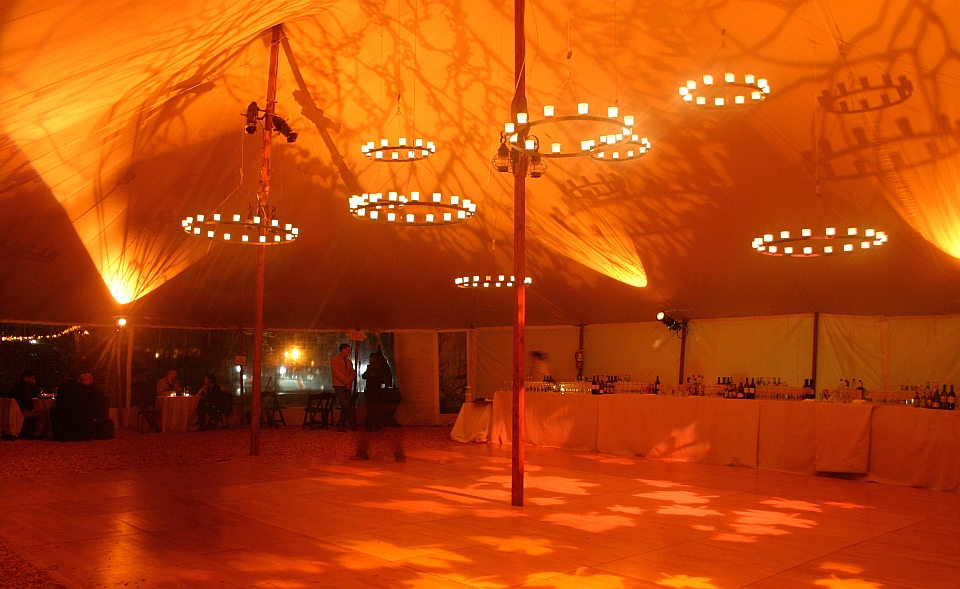 In 2005, the dinner was held at Rob Hill Campground in the Presidio.  The campground is a little-known secret and the only (legal) overnight campsite in San Francisco.  Currently the campground is undergoing some revitalization and will open again for the 2009 season.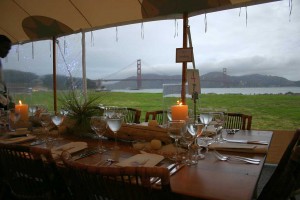 Next stop was Fort Baker in 2006.  You can't get much closer to the Golden Gate Bridge and the view of the city is absolutely stunning. Our tents were set-up in front of the harbor.  Until just recently, you may have only been to Fort Baker if your kids enjoy the Discovery Museum or maybe you've had a drink at Mike's Place.  Now, however, the latest Passport resort, Cavallo Point, calls Fort Baker home.  We were impressed with Impact Lighting's design concept in the cocktail tent – a tree branch pattern wash on the ceiling and a leaf pattern wash on the floor – giving the illusion of autumn's falling leaves.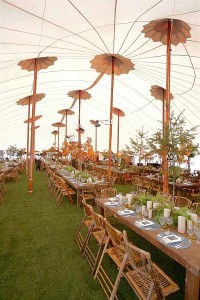 Last year, GGNPC showcased the restoration of the Lands End trail.  We brought out the largest tent in the fleet, a 64×124, to accommodate the ever-growing guest list.  The tent was installed on the parking lot and sod was laid beneath it for that "park-like" setting.
This fall, the Trails Forever Dinner took place on Crissy Field.  Cocktails were served marsh-side and dinner bay-side.  In addition to our tents, we provided the farm tables for dining and Adirondack furniture for lounging.  We are thrilled to have been able to be part of this special evening every year.  We only hope to be asked back in 2009…
Spoken by Jen Owsley | Discussion: Comments Off on GGNPC Trails Forever Dinner Celebration – Six Years of Incredible Locations
August 12th, 2008 categories: Decor, Lighting, Photos, Venues, Weddings
We thought we would share some photos from a wedding at Dawn Ranch this past weekend.  This 15 acre guest ranch is a sweet little spot in Guerneville on the banks of the Russian River.  Alison Hotchkiss and Kelsey Sheofsky of Alison Events planned a fun three days of events for the guests.  Zephyr Tents provided the tenting, japanese lanterns, farm tables, benches, and Adirondack furniture.  Alison put together a great team with decor by Loop Flowers, event lighting by Refraction and catering by Grapevine Catering.
Spoken by Jen Owsley | Discussion: 1 Comment »
July 14th, 2008 categories: Events, Venues, Weddings
We've had the pleasure of working in so many beautiful locations.  Many of these have been private homes but there are lots of great spots anyone can rent.  In no particular order, here are the top five SF Bay Area (tent-friendly) wedding venues: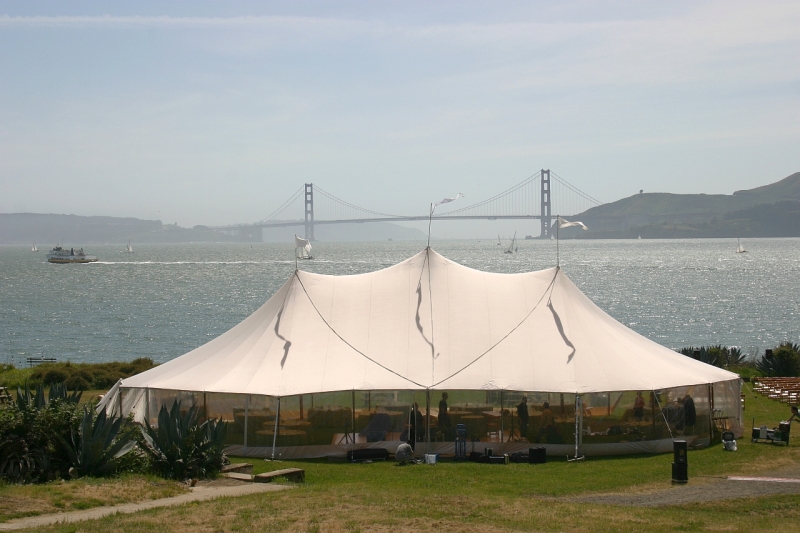 Angel Island
Angel Island is a one-of-a-kind location complete with an outstanding view of the San Francisco Bay.  Guests arrive by ferry and are shuttled to a private area on the island.  A recent wedding Zephyr Tents was an integral part of was featured in the summer 2008 issue of Martha Stewart Weddings magazine.  Zephyr Tents provided the tent, dance floor, lighting and generator. It was a logistical challenge getting everything barged to the island and then trucked to the wedding site, but the end result was spectacular with the Golden Gate Bridge as the back drop and fireworks concluding the evening.  With the right team to help plan ahead (wedding planner, Grace Lee and caterer, Living Room Events did a stellar job!), Angel Island is a dream venue.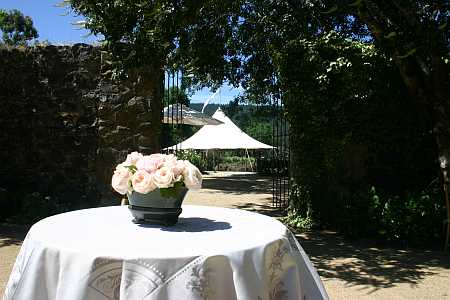 Annadel Winery and Gardens
Lucky for new brides-to-be, this private estate just came back on the event rental market.  Surrounded by old oaks, vineyards and roses, Paula LeDuc Fine Catering has the exclusive on this magical Sonoma Valley location.  Charming ruins are a special setting for your ceremony and are later converted to a late night lounge.  Guests dine on the lawn under a Zephyr canopy and enjoy the late evening hours when the light is just right in the valley of the moon.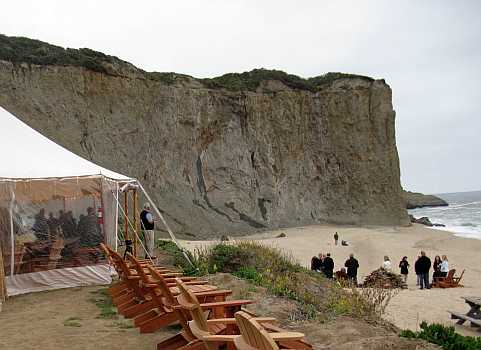 Martin's Beach
We love the beach and this venue is all about getting sand between your toes and dipping your feet in the ocean.  Just south of Half Moon Bay, Martin's Beach is surrounded by dramatic cliffs and comes with privacy, too.  A barefoot ceremony in the sand with the soothing sound of ocean waves, what could be more romantic?  Guests can stay at the nearby Ritz Carlton Half Moon Bay.
River House
With my east coast roots, it's hard not to love this private estate in Napa Valley located just off the historic Silverado Trail on the Napa River.   The expansive lawns, gardens and vineyards set the stage for a picturesque event.  Cocktail by the pool then dine and dance under a Zephyr tent while watching the sun drop behind the Redwoods and vineyard.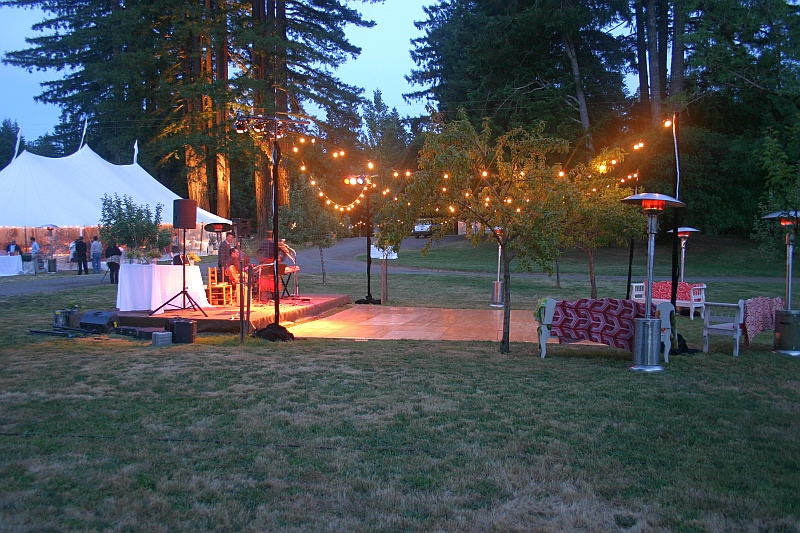 Highland Ranch
Located in Philo, just above the Anderson Valley, the secluded Highland Ranch allows you to relax and enjoy nature.  The Anderson Valley is home to Anderson Valley Brewing Company , Scharffenberger Cellars, and Husch Vineyards to name of few of its many interests.  Nestled in a forest of Douglas Fir and Redwoods, the ranch offers cozy cabins and a yurt for meditation, massage or yoga.  There are lots of activities for guests to enjoy including swimming and a horse back riding program for all levels.   When it comes to getting married at Highland Ranch the possibilities are endless.  You can exchange vows by the lake, under a California Oak or in the apple orchard.  Enjoy dinner catered by the Philo Apple Farm under a Zephyr tent set beneath a cluster of redwood trees.  If weather permits, finish the evening dancing under the stars.
Spoken by Jen Owsley | Discussion: Comments Off on Top Five Locations for a Tented Wedding in the San Francisco Bay Area