Archive for July, 2008
July 23rd, 2008 categories: Events, Products
Zephyr Tents had the pleasure of working with Jennifer Bowman Waterman of Custom Special Event Planning and Matt Dockstader of Destination Races creating a first class finish line celebration for the Napa-to-Sonoma Wine Country Half Marathon.   Runners World selected this race as "best finish" in 2007, with it's Wine & Music festival awaiting the runners at the Sonoma Plaza.  What a great way to conclude an amazingly scenic run through the wineries, vineyards and farmland.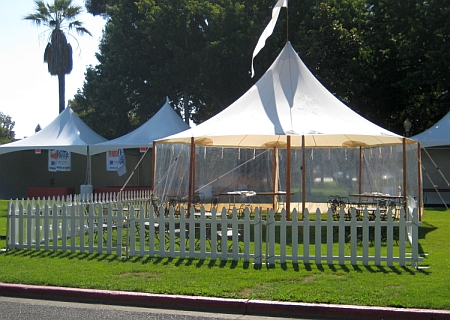 Traditionally this festival-style event is comprised of the usual rows of 10×10 tents and various other frame tents.  We took it outside of the box (no pun intended) and offered our round tents as a more festive and attractive solution to house a stylish vineyard lounge and the many wineries, which included Matanzas Creek and Nicholson Ranch.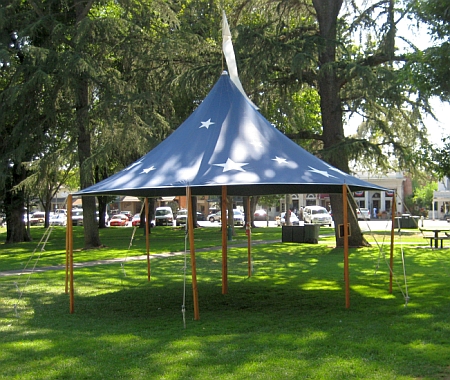 Our unique Nantucket blue tent with white stars made its debut on the Sonoma Plaza as the runner's massage tent.
The Travel Channel and Runners World were both covering the race this year – congratulations on a great event, Destination Races!  Registration for 2009 opens in early October – you've got to plan ahead since this race sells out every year.
Spoken by Jen Owsley | Discussion: Comments Off on A Tenting Makeover at the Finish Line for the Napa-to-Sonoma Wine Country Half Marathon
July 15th, 2008 categories: Decor, Events, Photos, Weddings
We are thrilled to share some photos from a recent wedding in Napa Valley.  Wedding planner, Laurie Arons did an amazing job pulling all of the pieces together.  Zephyr Tents, Kathleen Deery Design, Paula LeDuc Fine Catering and Impact Lighting proved to be a great team creating a magical setting for the bride and groom complete with carpet-covered custom round flooring, beautiful flowers, and dramatic light shades suspended from the tent ceiling.  We are looking forward to seeing Meg Smith's professional photos but in the meantime we're enjoying these.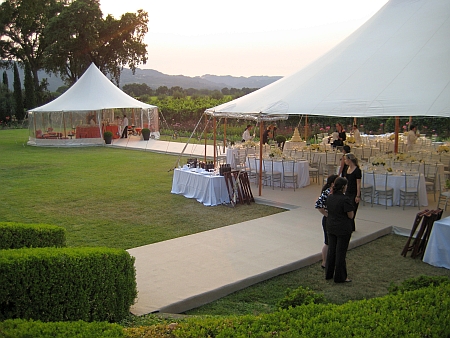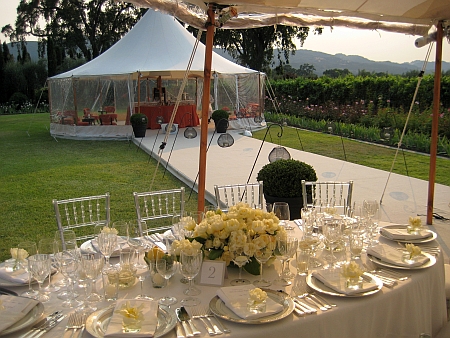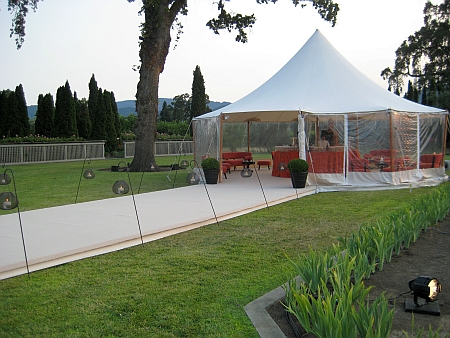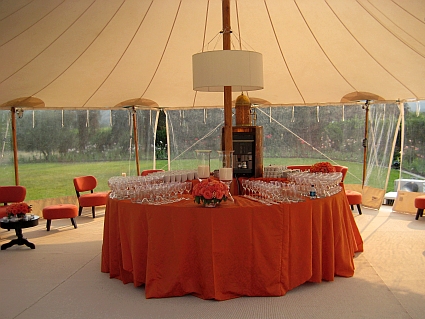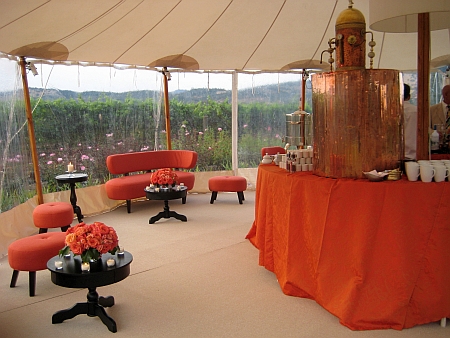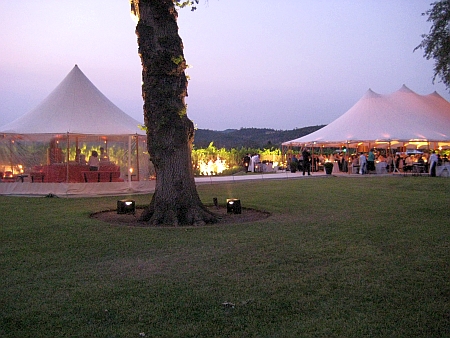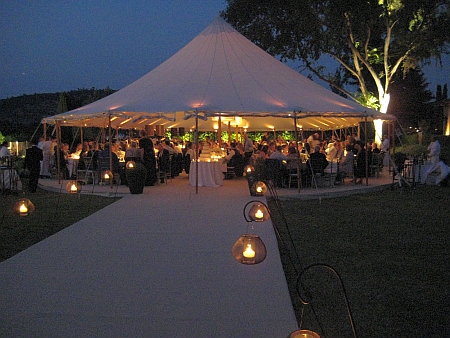 Spoken by Jen Owsley | Discussion: Comments Off on Featured Event: A Gorgeous Napa Valley Summer Wedding
July 14th, 2008 categories: Events, Venues, Weddings
We've had the pleasure of working in so many beautiful locations.  Many of these have been private homes but there are lots of great spots anyone can rent.  In no particular order, here are the top five SF Bay Area (tent-friendly) wedding venues: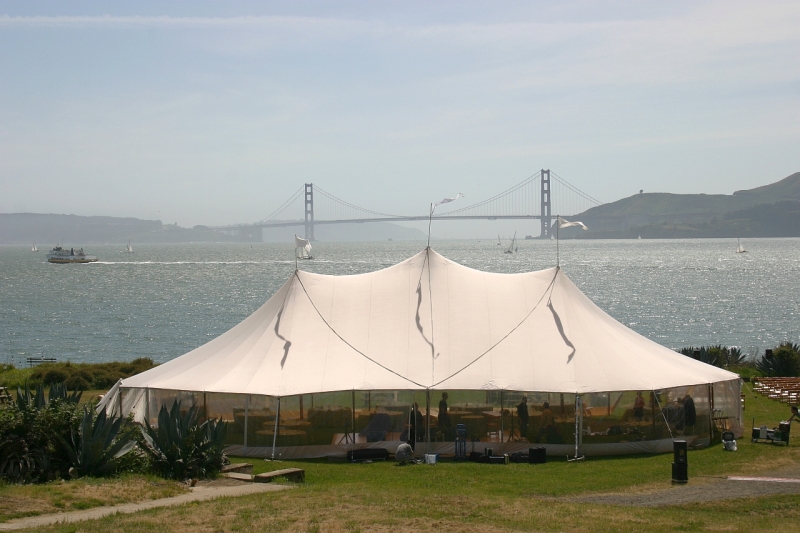 Angel Island
Angel Island is a one-of-a-kind location complete with an outstanding view of the San Francisco Bay.  Guests arrive by ferry and are shuttled to a private area on the island.  A recent wedding Zephyr Tents was an integral part of was featured in the summer 2008 issue of Martha Stewart Weddings magazine.  Zephyr Tents provided the tent, dance floor, lighting and generator. It was a logistical challenge getting everything barged to the island and then trucked to the wedding site, but the end result was spectacular with the Golden Gate Bridge as the back drop and fireworks concluding the evening.  With the right team to help plan ahead (wedding planner, Grace Lee and caterer, Living Room Events did a stellar job!), Angel Island is a dream venue.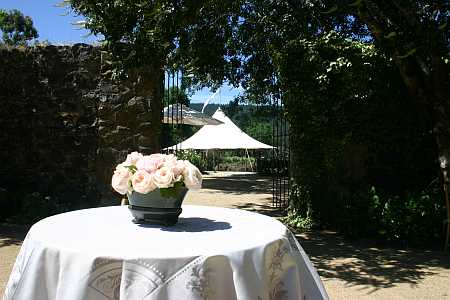 Annadel Winery and Gardens
Lucky for new brides-to-be, this private estate just came back on the event rental market.  Surrounded by old oaks, vineyards and roses, Paula LeDuc Fine Catering has the exclusive on this magical Sonoma Valley location.  Charming ruins are a special setting for your ceremony and are later converted to a late night lounge.  Guests dine on the lawn under a Zephyr canopy and enjoy the late evening hours when the light is just right in the valley of the moon.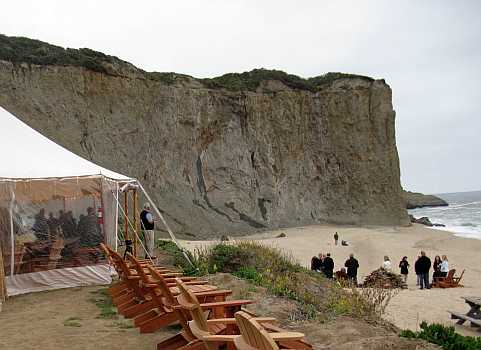 Martin's Beach
We love the beach and this venue is all about getting sand between your toes and dipping your feet in the ocean.  Just south of Half Moon Bay, Martin's Beach is surrounded by dramatic cliffs and comes with privacy, too.  A barefoot ceremony in the sand with the soothing sound of ocean waves, what could be more romantic?  Guests can stay at the nearby Ritz Carlton Half Moon Bay.
River House
With my east coast roots, it's hard not to love this private estate in Napa Valley located just off the historic Silverado Trail on the Napa River.   The expansive lawns, gardens and vineyards set the stage for a picturesque event.  Cocktail by the pool then dine and dance under a Zephyr tent while watching the sun drop behind the Redwoods and vineyard.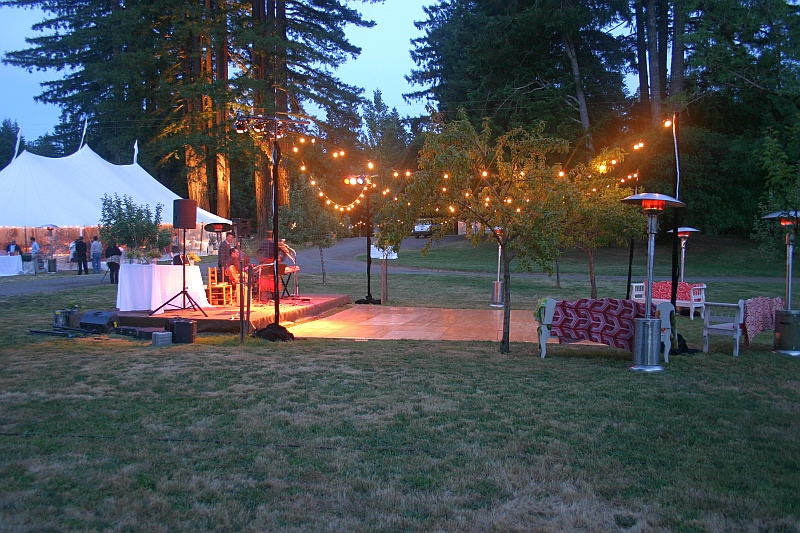 Highland Ranch
Located in Philo, just above the Anderson Valley, the secluded Highland Ranch allows you to relax and enjoy nature.  The Anderson Valley is home to Anderson Valley Brewing Company , Scharffenberger Cellars, and Husch Vineyards to name of few of its many interests.  Nestled in a forest of Douglas Fir and Redwoods, the ranch offers cozy cabins and a yurt for meditation, massage or yoga.  There are lots of activities for guests to enjoy including swimming and a horse back riding program for all levels.   When it comes to getting married at Highland Ranch the possibilities are endless.  You can exchange vows by the lake, under a California Oak or in the apple orchard.  Enjoy dinner catered by the Philo Apple Farm under a Zephyr tent set beneath a cluster of redwood trees.  If weather permits, finish the evening dancing under the stars.
Spoken by Jen Owsley | Discussion: Comments Off on Top Five Locations for a Tented Wedding in the San Francisco Bay Area