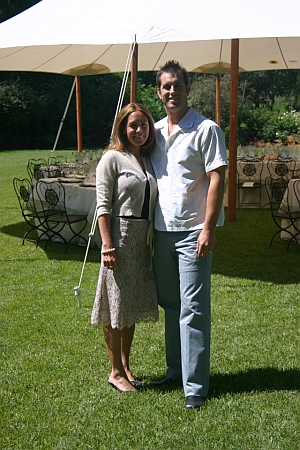 The occasion of a friend's 2001 East Coast wedding introduced Tod and Jennifer Owsley to a brand new style of tent, both elegant and unique and perfect for sophisticated events and weddings.
Creatively designed by New England craftsman and accomplished sail maker, Steve Sperry, these tents are set apart from the ordinary. The Sperry tents are built with stylish nautical flair, hand-sewn panels of waterproof sailcloth, stainless steel grommets, and tent lines with rigging cleats. The wooden support poles are reminiscent of a ship's mast and are hand cut at the Sperry sawmill. Tod and Jennifer immediately began to acquaint West Coast consumers with this striking alternative; a tent beautiful on the inside.
Upon graduation from Cornell University's School of Hotel Management, Jennifer Owsley moved to San Francisco to pursue a career in the events industry at the acclaimed Paula LeDuc Fine Catering. The company's fast paced atmosphere as a high-end, full service caterer provided a fabulous working environment during the five years she handled event production and sales. Jennifer now uses these skills consulting to wedding planners and caterers.
As General Manager of Best Beverage Catering in San Francisco through the mid 90's, Tod Owsley coordinated such major hospitality events as the Super Bowl 1998 in San Diego, San Francisco's Black and White Ball, and the Major League Baseball World Series Hospitality Village 1998. Subsequently, Tod became director for City Access Providers, a nationwide corporate concierge.
After more than 20 years in the San Francisco Bay Area, the Owsleys' expertise and professional guidance in the special events industry have brought high degrees of satisfaction and pleasure to their clients.
They welcome the opportunity to assist you for your next celebration.